BBC Sports Personality contender: Kelly Gallagher & Charlotte Evans
Last updated on .From the section Sports Personality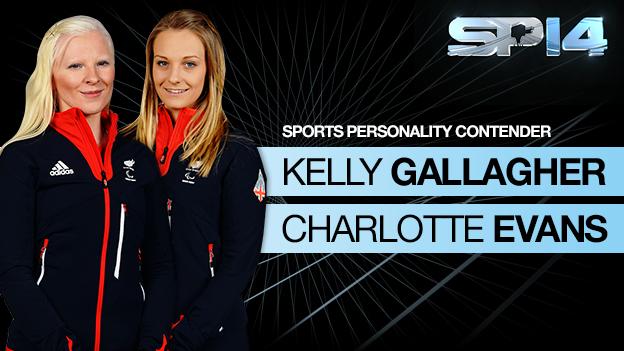 "They are amazing - an absolute team" - the 1972 BBC Sports Personality Dame Mary Peters on Winter Paralympic gold medallists Kelly Gallagher and guide Charlotte Evans.
Gallagher and Evans are the latest in our series of profiles in the run-up to the BBC Sports Personality of the Year award on 14 December, as we focus on one of the 10 shortlisted contenders each day.
Year in a nutshell
Won Great Britain's first ever Winter Paralympics gold medal - in the visually impaired Super-G event in Sochi

Gallagher goes down the slopes at 100km/h despite having little vision

Evans provides audio commentary, relayed through a Bluetooth earpiece

The pair were awarded MBEs for services to visually impaired sport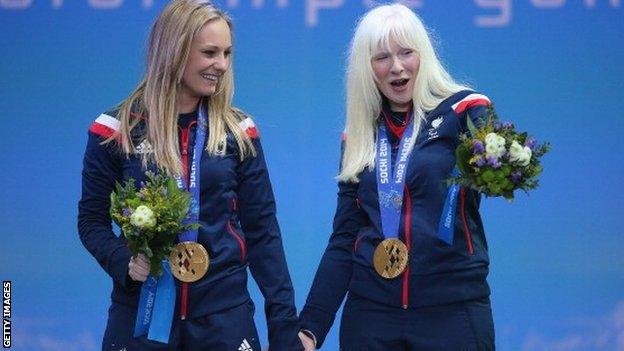 Inside track: Kelly Gallagher & Charlotte Evans
Dame Mary Peters, who brought Olympic pentathlon gold back to Northern Ireland in 1972, gives her thoughts on 29-year-old Gallagher and Evans, 23.
"It's amazing what they have achieved," said Dame Mary, whose charity has supported Gallagher, who has oculocutaneous albinism, a condition that affects the pigment in her hair, skin and eyes.
"She and Charlotte are an absolute team - they are such good pals. Kelly wouldn't be able to ski in her own right if it wasn't for Charlotte and what they have been able to achieve together is terrific.
"I met Kelly in Northern Ireland when she was about 12 - this wee girl full of life, vigour and enthusiasm - and just loved her. She had no interest in sport at that stage.
"After she lost her sight there were very few sports she could take up, and to travel at those speeds is quite amazing when you can't see what you're doing.
"Kelly comes from Northern Ireland where we have little snow. It just happened she was on a holiday with her mum in Andorra at the age of 17 and said that she wanted to do some skiing.
"I did a sponsored charity walk with her once, and it was one of the best hours of life I have ever spent. She wants to give back and wants to continue in sport - and she has to strike the balance between being a social animal and a world-class athlete."
Four facts: Kelly Gallagher & Charlotte Evans

Gallagher, from County Down, has some vision - she can see the reflections in puddles, for example. When skiing, she follows a fluorescent orange bib, worn by Evans, which stands out against the white snow.

Kent-based Evans turned to coaching after her own ski career was interrupted by a serious knee injury at the English Championships in 2009.
Gallagher's sporting injuries have included a broken foot, a torn knee and deep bruises to her spine. On one occasion, she skied into a rope, which ripped into her face.

The pair are proud to be a team. Gallagher says: "My guide Charlotte Evans will be coming up on stage with me; she's not being left out. We won gold together, we do drugs tests together, we get down the slope together."
Dame Mary Peters was speaking to BBC Sport's Frank Keogh