BBC Sports Personality 2014 contender: Lewis Hamilton
Last updated on .From the section Sports Personality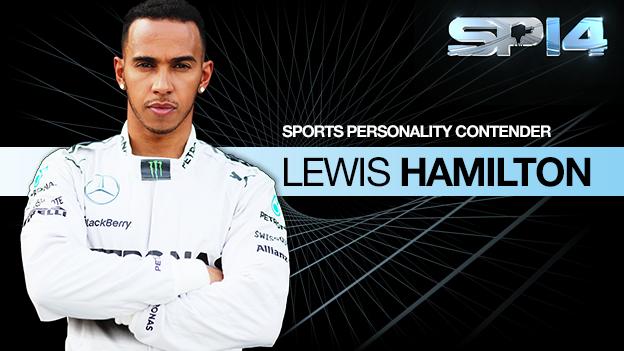 "The drivers who are truly exceptional have something extra. Hamilton, like his childhood hero Ayrton Senna, has that X-factor" - David Coulthard, a 13-time grand prix winner, on F1 world champion Lewis Hamilton.
Hamilton is the latest in our series of profiles in the run-up to the BBC Sports Personality of the Year award on 14 December, as we focus on one of the 10 shortlisted contenders each day.
Year in a nutshell
Became the first British driver for more than 40 years to win a second Formula 1 world title

Edged out Mercedes team-mate Nico Rosberg with victory in the last race in Abu Dhabi

Won 11 races during a dramatic battle for the title

Surpassed Nigel Mansell's British record of 31 grand prix victories and helped team win the constructors' championship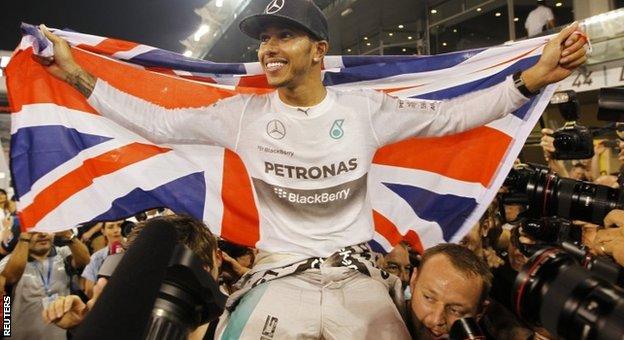 The inside track on Lewis Hamilton
Former F1 driver David Coulthard gives his thoughts on 29-year-old Lewis Hamilton.
"He appears to have drawn on all the life experiences of growing up in the public eye, adapting to and harnessing his undoubted talent, and brought all that together in a way that has enabled him to become an inspirational sportsman.
"Mentally, he is a more complete driver than ever before. He has developed an inner peace and calm. It's not that long - three years, to be precise - since he took pole in Korea and didn't smile because he'd split up with his girlfriend and he wanted her to see how much he was hurting. That sort of immature approach was gone this year.
"He is closer to the absolute edge of performance more often than most other drivers. A wise old racing driver once told me that every spin is a potential crash and every crash is a potential fatality. We don't spin for fun, and we have seen several spins from Hamilton this year, more than in previous years.
"There are many very fast, very good racing drivers. But the ones who are truly exceptional have something extra. Hamilton, like his childhood hero Ayrton Senna, has that X-factor that means when he is behind someone on the track you are on the edge of your seat thinking: 'Something is going to happen.'
"We lost Lewis for a period of time, as he worked out who he was as a man. But we've found him again this year. He has that simplicity to him as an individual which is very endearing, and all in all he is a very likeable character."
Four facts about Lewis Hamilton

He was named after the US Olympic double 100m gold medallist Carl Lewis, and his first driving victory came at the age of six, with a radio-controlled car in a Blue Peter competition.

Having won karting and F1 titles in a number 44 car, it is the driver's lucky number, and he has the digits tattooed behind his right ear.
Girlfriend Nicole Scherzinger said she was proud of his "heart, dedication and sacrifice" after watching him win the world title in Abu Dhabi.

Hamilton is Britain's first multiple world F1 champion in 43 years. Jackie Stewart last achieved the feat in 1971 and would win the title for a third and final time in 1973.
David Coulthard was speaking to BBC Sport's Andrew Benson