BBC Sports Personality 2014 contender: Rory McIlroy
Last updated on .From the section Sports Personality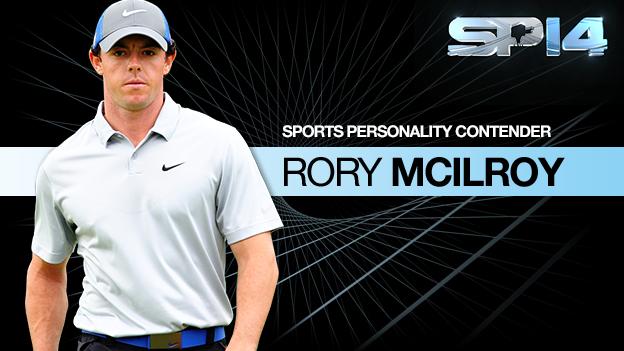 "He's a great role model and great icon for Europe" - 2010 US Open champion Graeme McDowell on Rory McIlroy.
Year in a nutshell
Golf's world number one won two more major titles

Victory at the Open Championship secured him the third leg of a career Grand Slam

Three weeks later, the Northern Irishman became first player from the UK to win back-to-back majors by claiming second US PGA title

Won three points as Europe retained the Ryder Cup at Gleneagles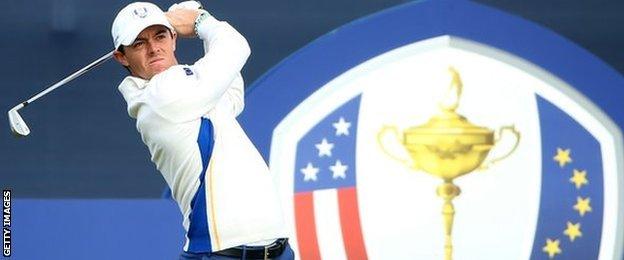 The inside track: Rory McIlroy
Graeme McDowell, the 2010 US Open champion, gives his thoughts on 25-year-old Rory McIlroy.
"He's stamped his authority on world golf this year. Winning the PGA at Wentworth, the Claret Jug at Hoylake, the WGC Invitational at Akron and then the PGA Championship at Valhalla which capped off an amazing run of form," said Northern Ireland's McDowell of his compatriot.
"He just seems to go from strength-to-strength. He has beaten his body into phenomenal shape and he is swinging the club better than ever. He hits it so, so long. His driver is a precocious weapon and he looks unbeatable when he's on form.
"It's exciting for the game of golf. He's a great role model and great icon for Europe and it's going to be very special to see him continue. He shakes off mistakes incredibly well and has a great attitude.
"Rory has a presence on the golf course which makes it look like he's having fun playing golf. Compare that to Tiger Woods. He's very much in the zone, tunnel vision, not interacting with the crowd. That was his way of doing things. Rory's very different to that.
"He likes to project himself, likes to interact and really looks bouncy on the golf course. There's a huge amount to say for that. It's a great thing for kids to be copying.
"How good could Rory be? That's the big question and that's up to him. It's going to be special to watch it because he certainly has the tools and he's very, very exciting for the game of golf. "
Four facts about Rory McIlroy

McIlroy, who grew up in Holywood, County Down, is said to have hit a 40-yard drive at the age of two, and his first hole-in-one aged nine. Within two years he was shooting level par around his home course,

McIlroy triumphed despite difficulties off the course - he broke off his engagement to Danish tennis player Caroline Wozniacki, and was involved in a legal dispute with his former management company.
He is the third youngest player to win three of golf's four majors - after Jack Nicklaus (23) and Tiger Woods (24) - and the first European to win three different majors in the modern era.

His four career major wins have contributed to a total of six victories for golfers from Northern Ireland in the last five years - a 30% strike rate. Graeme McDowell triumphed in the 2010 US Open while Darren Clarke won The Open a year later.
Graeme McDowell was speaking to BBC Sport's Iain Carter