BBC Sports Personality 2014 contender: Lizzy Yarnold
Last updated on .From the section Sports Personality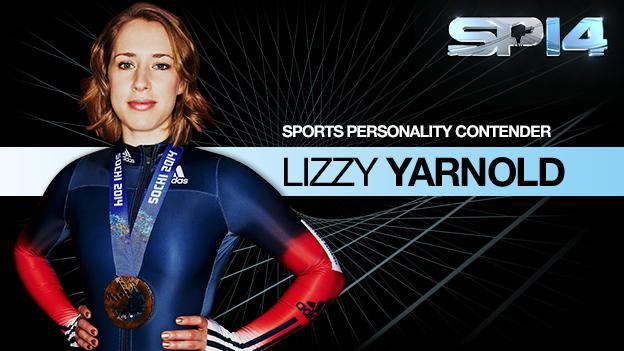 "She is the perfect form lying on the sled - I think she is going to dominate for years to come" - Amy Williams on fellow Olympic skeleton champion Lizzy Yarnold.
Year in a nutshell
Dominated the women's skeleton event to win Great Britain's only gold medal of the 2014 Winter Olympics

Yarnold's victory was only GB's 10th winter title in Games history

Led the field throughout the four-race event in Sochi, and her winning margin of 0.97 seconds was the largest ever

She also secured the overall World Cup title in 2013-14, reaching the podium in seven of the eight World Cup races and winning four golds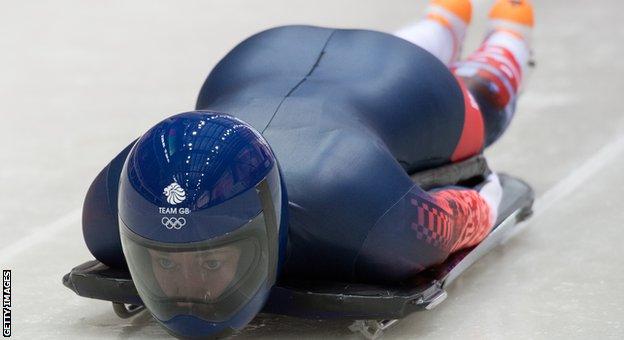 The inside track: Lizzy Yarnold
Mentor, friend and 2010 Winter Olympic gold medallist Amy Williams gives her thoughts on 26-year-old Lizzy Yarnold.
"She's a very talented girl. I think she is going to dominate for years to come and I can see her winning another gold in four years' time," said Williams.
"She is the perfect form lying on the sled and is so aerodynamic. Her confidence has grown, and once you start getting that, you feel you can win everything.
"From day one she has had a natural flair. She works hard in the gym and is heavier than some of the other girls - she could pretty much compete in the men's category.
"When you are sliding at anywhere between 60mph and 85mph, your reactions need to be fast.
"Lizzy's very single-minded, determined, knows what she wants and will work hard to get it
"Medals breed medals and it's great to see Lizzy and others keeping the sport alive in Britain."
Four facts about Lizzy Yarnold

Grew up in Kent but moved to Bath when taking up skeleton, and lived in flat owned by Amy Williams - whose 2010 gold followed Olympic medals for GB in 2002 (Alex Coomber, bronze) and 2006 (Shelley Rudman, silver).

Yarnold blacked out during a training run for a World Cup event at Whistler, Canada, in 2012 - but went on to finish third in the race itself two days later.
A former heptathlete, Yarnold's career change came aged 20 thanks to a 2008 UK Sport Girls4 Gold talent search, aimed at finding future Olympic champions.

Her sled is called Mervyn. It is named after a man she met while working for an insurance underwriters in London who helped fund her early career.
Amy Williams was talking to BBC Sport's Frank Keogh