Anya Shrubsole: BBC Sports Personality 2017 contender
BBC Sports Personality of the Year 2017
Date: Sunday, 17 December Time: 18:45 GMT Venue: Echo Arena, Liverpool Coverage: BBC One, Radio 5 live, BBC Sport website
We are showcasing each of the 12 contenders in the run-up to the Sports Personality of the Year award on 17 December. Today - Anya Shrubsole.
Age: 25 Sport: Cricket
Year in a nutshell
Named player of the match as England secured a dramatic victory over India to win the Women's World Cup in July.
The Somerset bowler took five wickets in 19 balls as she claimed 6-46, the best bowling figures in a World Cup final.
Shrubsole became the first female cricketer to receive the Christopher Martin-Jenkins Spirit of Cricket award for consoling distraught South Africa captain Dane van Niekerk after the semi-final victory before celebrating with her team-mates.
Former England cricket captain Michael Vaughan on Shrubsole:
"She has that inner spirit you require. She grew in confidence and the crowd really sucked England home to victory. Anya had that one chance to deliver something special and she certainly did that.
"It was a brilliant individual performance under immense pressure. It felt like the whole nation stopped on that Sunday afternoon to follow women's cricket. It was high quality, high drama - the atmosphere was immense and England delivered.
"England should have lost and she got the wickets. It's given so many young girls the opportunity to look at the game and realise it's a proper sport."
How did she get here?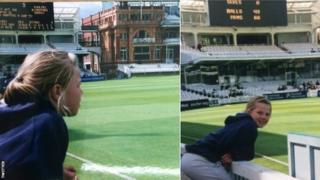 Shrubsole first visited Lord's, the home of cricket, aged nine to see her father Ian play for Bath (1/5)
Shrubsole enjoyed football, rugby and swimming as a child but concentrated on cricket after honing her skills in her parents' back garden.
She played in boys' teams, appeared for Somerset's women's side by the age of 12 and four years later had made her England debut.
At the end of the 2008 season, Shrubsole won the Most Promising Young Women's Cricketer Award, selected by the MCC, and was called up to England's squad the following year for the World Cup.
She was leading wicket-taker at the World Twenty20 three years ago and went on to become England's vice-captain.
What she said on the World Cup triumph: "You never actually think these things are going to happen. For that dream to be a reality is just amazing."
What you say
Penny Hopkins: Only one SPOTY winner for me this year and that's @Anya_shrubsole. The Women's Cricket World Cup was THE event of the sporting summer.
Georgia Baker: So happy to see Anya Shrubsole on the shortlist. She's had such an amazing year, and is a true inspiration for young girls who want to get involved in cricket.
April Hall: Chuffed to see Anya Shrubsole nominated for SPOTY - taking that last wicket at Lord's to win the World Cup was a true champagne moment.
Sports Personality record: First nomination. Andrew Flintoff was the last cricketer to be voted Sports Personality in 2005.
Get Inspired
Cricket is a social sport that is becoming more accessible because of a variety of formats - games can be played in a host of environments, ranging from 15 minutes to five days.
To find out more on how to get into cricket, visit the Get Inspired website.
This article was originally published on 5 December, 2017.