Sports Personality of Year 2017: Ehiogu, Novotna, Taylor and the other stars we have lost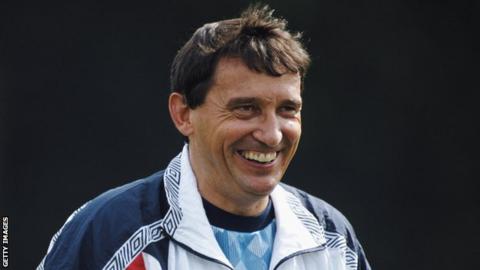 A host of figures from the world of sport passed away in 2017.
Here we collate a list of sporting names who have died since the 2016 Sports Personality of the Year programme.
ATHLETICS
2008 Olympic high jump silver medallist Germaine Mason
Bronze medallist in the 5,000m at the 1956 Melbourne Olympics Derek Ibbotson
Athletics coach who guided 30 athletes to medals at major championships, Mike Smith
Four-time Olympic gold medallist sprinter Betty Cuthbert
2014 World Relay Championships silver medallist David Torrence
Two-time Olympic discus thrower Philippa Roles
AMERICAN SPORTS
Winner of basketball's NBA title three times and baseball's World Series championship Gene Conley
BASKETBALL
Former basketball coach and Sky Sports presenter Kevin Cadle,
BOWLS
Commonwealth Games gold medallist and world singles and pairs champion Joyce Lindores
BOXING
Former middleweight world champion, whose life was depicted in the film Raging Bull, Jake LaMotta
Guinness record holder for holding 10 British amateur titles, Errol Christie
Former world middleweight champion Terry Downes
Former Irish, British European bantamweight champion John Kelly
Former Scottish, British and Commonwealth featherweight champion Evan Armstrong
BROADCASTING
Irish sports commentator and journalist Jimmy Magee
CRICKET
England's World Cup-winning captain and women's cricket pioneer, Baroness Rachael Heyhoe Flint
World record holder for the most Test runs scored in women's cricket, Jan Brittin
Former Grandstand presenter and cricket commentator Ralph Dellor
England Test cricketer Peter Richardson
England Test cricketer and international umpire John Hampshire
England Test cricketer and selector Doug Insole
England Test cricketer Megan Lowe
Former Glamorgan cricketer and national performance director of the Cricket Board of Wales John Derrick
Former Kent cricketer and one of the founding members of the PCA David Sayer
Former Yorkshire and Nottinghamshire cricketer Michael Bore
Leading wicket-taker in Glamorgan's history Don Shepherd
Former Gloucestershire cricketer Graham Wiltshire
Former Derbyshire cricketer Derek Morgan
Former Somerset cricketer Chris Greetham
CURLING
First Scotsman to become world champion Chuck Hay
CYCLING
Former British champion in time trial, road racing and mountain biking Sharon Laws
2012 World Cycle Race winner Mike Hall
1967 amateur men's road race world champion Graham Webb
1950 Tour de France winner Ferdi Kubler
2011 Giro d'Italia winner Michele Scarponi
Team pursuit gold medallist at the 2004 Athens Olympics and four-time world champion Stephen Wooldridge
FOOTBALL
Former Scotland international and Hearts and Everton forward Alex Young
Celtic and Scotland legend Tommy Gemmell
Played 343 games for Liverpool and later became a coach at the club, Ronnie Moran
Former England, Watford and Aston Villa manager Graham Taylor
Former England international and Aston Villa and Middlesbrough defender Ugo Ehiogu
Former Ivory Coast international and Newcastle midfielder Cheick Tiote
Chairman of Newcastle United from 1997 to 2007 Freddy Shepherd
Football results reader and broadcaster Tim Gudgin
Former manager of the England women's team Martin Reagan
Northern Ireland international and Rangers striker Billy Simpson
Derry City captain Ryan McBride
Shelbourne under-16 player Izzy Dezu
Former Wales international and Norwich, Port Vale and Birmingham City forward Noel Kinsey
Former Wales and Chelsea goalkeeper John Phillips
First Jamaican footballer to play in the England professional league and broadcaster Lindy Delapenha
Former Port Vale, Wigan and Macclesfield defender Matt Carragher
First Frenchman to win the Ballon d'Or and three-time European Cup winner Raymond Kopa
Former Scotland international and Partick Thistle and Dumbarton winger John MacKenzie
Former Scotland international and Celtic forward Paul Wilson
Former Scotland international and Motherwell midfielder Bert McCann
Oxford United's all-time record goalscorer Graham Atkinson
Former Charlton and Portsmouth defender Paul Went
Former Belgium international and West Ham forward Francois van der Elst
Former Charlton Athletic and Gillingham defender Dave Shipperley
Sheffield United legend Fred Furniss
Former Port Vale, Bournemouth and Crewe defender Roy Gater
Hibs Hall of Fame inductee Eric Stevenson
Former Tottenham and Plymouth winger Ralph Wetton
Former Crystal Palace and Aberdeen centre-back John McCormick
Former Bristol City and Southampton winger Ken Wimshurst
Former Hearts midfielder Davie Laing
Former Aberdeen and Liverpool goalkeeper John Ogston
Former Sheffield Wednesday winger Derek Wilkinson
Former Brighton and Leicester player and later Wigan manager and Chelsea assistant, Ian McNeill
Former West Brom, Norwich, Crystal Palace and Charlton player Brian Whitehouse
Former Partick Thistle, Ayr United and Albion Rovers goalkeeper Cammy Duncan
Ex-Burnley captain and Swindon player Peter Noble
Former New Zealand captain and Preston North End and Blackpool midfielder Steve Sumner
Set a world record by scoring three goals in 90 seconds as an 18-year-old while playing for Ross County, Tommy Ross
Former Bradford Park Avenue and Crystal Palace defender Malcolm Lawton
Former Chelsea youth team boss and Crawley manager Dermot Drummy
Former Chelsea defender and long-time assistant of Terry Venables at Crystal Palace, QPR, Barcelona and Spurs, Allan Harris
German 1954 World Cup winner Hans Schafer
Former Stoke midfielder Dionatan Teixeira
Former Ghana international and Ajax midfielder Yakubu Abubakar
Goalkeeper in Indonesia's top division Choirul Huda
AC Milan and Hearts midfielder Stefano Salvatori
Former Czech Republic international Frantisek Rajtoral
Former Brighton, Wycombe Wanderers and Oxford United defender Paul McCarthy
Mansfield Town physiotherapist Matt Salmon
Former Wolves, Middlesbrough, Leicester and Notts County player Eddie Russell
Former Cliftonville goalkeeper Paul Straney
HOCKEY
Manager of the Great Britain team that won gold at the 1988 Olympics, Roger Self
HORSE RACING
Two-time Cheltenham Gold Cup and Grand National winner and Grand National winning trainer Tommy Carberry
Rode Foinavon to victory at 1967 Grand National, John Buckingham
Trainer of 1983 Derby winner Teenoso and 1996 King George VI and Queen Elizabeth Stakes champion Pentire, Geoff Wragg
Rode Red Rum and Red Alligator to Grand National victories, Brian Fletcher
Britain's winning-most female trainer, who saddled more than 2,000 winners across her career Mary Reveley
Kempton stables worker Ken Dooley
GAELIC SPORTS
GAA player Brendan 'Benny' Reilly
GOLF
Founder of the PGA European Tour and Ryder Cup player and captain John Jacobs
1967 Open winner Roberto de Vicenzo
Two-time Ryder Cup player Tommy Horton
GYMNASTICS
British gymnastics champion and double Olympian in 1948 and 1952 George G. Weedon
JUDO
Welsh judoka, who competed at the 2014 Commonwealth Games in Glasgow, Jamie MacDonald.
Founding member of the British Judo Association and competed at the 1964 Tokyo Games Syd Hoare.
MOTORSPORT
Four-time 500cc motorcycle world champion and F1 title winner with Ferrari in 1964, John Surtees
2006 MotoGP world champion Nicky Hayden
Top Gun Honda racer Daniel Hegarty
Isle of Man TT participant Davey Lambert
Dundrod 150 motorcyclist Jamie Hodson
Dundrod 150 motorcyclist Gavin Lupton
Former British motocross champion Steven Lenoir
Superstock competitor Jochem van den Hoek
Tandragee 100 in Northern Ireland competitor Dario Cecconi
Pirelli National Superstock 1000 Championship competitor Mark Fincham
Motorcycling competitor Mick Whalley
MOUNTAINEERING
Known as 'the Swiss machine' climber Ueli Steck
PARA SPORT
Competed in five Paralympics, three World Championships and one of the founding members of Disability Sport Wales Jim Munkley
Competed in Para-table tennis at the Beijing Paralympic Games in 2008 and for Team Wales at two Commonwealth Games, Claire Robertson
United Arab Emirates javelin thrower Abdullah Hayayei
ROWING
Former England and Great Britain rower, GB team manager and chairman of British Rowing, Dame Di Ellis
RUGBY LEAGUE
Legendary Hull FC coach Arthur Bunting
Made nearly 400 appearances for Widnes and Hull and former Rugby Football League president, Colin Hutton
Played 415 games for Widnes and former England and Great Britain international Mick Adams
Halifax player, who played 27 times for Great Britain, Ken Roberts
Played 452 games for Salford, 24 times for Great Britain and three for England, Chris Hesketh
Former Wakefield and Leeds player and Great Britain international Don Robinson
Played 438 games for Wakefield and former Great Britain international Keith Holliday.
Former Oldham player and Great Britain international Sid Little
Former Featherstone player Terry Ramshaw.
Played 440 games for Salford and former England international Peter Norburn
Played 396 games for Halifax and former Wales international John Freeman
Played 309 games for Featherstone Rovers and former England and Great Britain international Vince Farrar
Played 393 games for Halifax and former England international Ken Dean
Former Oldham and Swinton player Tony Barrow Jr
Scored 392 tries in 408 appearances for St Helens Tom van Vollenhoven
Leigh's all-time record try scorer and Great Britain international Mick Martyn
307 first-team appearances for Featherstone Rovers Les Tonks
Represented Swinton Lions for 19 years and winner of 14 Great Britain caps, Ken Gower
RUGBY UNION
Former Wales Grand Slam-winning captain John Gwilliam
South African World Cup winner and rugby Hall of Fame inductee Joost van der Westhuizen
Former Welsh rugby international Lloyd Williams
Former Wales international John Collins
Welsh rugby union international and youngest player at the Women's Rugby World Cup Elli Norkett
Captained England in the Five Nations David Perry
BBC broadcaster known as "the voice of Welsh rugby" David Parry-Jones
New Zealand captain and former New Zealand cricket team manager Sir John Graham
Named New Zealand's best rugby player of the 20th century and later coach and manager Sir Colin Meads
Former Ireland and British and Irish Lions international Willie Duggan
Former Wales and British and Irish Lions international John Faull
England international and also first-class cricketer Christopher Winn
Former Ireland international Neville Furlong
Former Glasgow Warriors and Glasgow Hawks player Stephen Begley
Pontyclun RFC rugby player Luke Hole
Thurston RUFC player Joshua Gilbert
Former England and British and Irish Lions prop Brian 'Stack' Stevens
Former Llanelli coach and chairman John MacLean
Former New Zealand international Sione Lauaki
Premiership winner with Newcastle Paul van Zandvliet
Winner of 63 caps for Australia Dan Vickerman
SAILING
Clipper Round the World competitor Simon Speirs
TAEKWONDO
Bronze medallist at the 2012 European Championships Caroline Facer
TENNIS
1998 Wimbledon ladies' singles champion Jana Novotna
Former British number one, and Davis Cup captain when Great Britain reached the final in 1978 Roger Becker
Honorary Librarian at Wimbledon Lawn Tennis Museum Alan Little
1955 US Open men's doubles winner Kosei Kamo
Seven-time Grand Slam champion and inductee into the International Tennis Hall of Fame Mervyn Rose
Former world number 43 and conqueror of defending champion Boris Becker at Wimbledon in 1987, Peter Doohan
Former player and coach of Jimmy Connors Pancho Segura
TRIATHLON
Founding president of the International Triathlon Union Les McDonald
WEIGHTLIFTING
Olympic champion in London in 1948 Frank Spellman
WINTER SPORTS
Downhill bronze medallist at the 2013 world championships David Poisson
Former Olympic downhill skier and Britain's first national coach Robin Brock-Hollinshead
Frenchman who won gold in the downhill event in the 1960 Winter Olympics Jean Vuarnet
Piloted the US four-man bobsled team to gold at 2010 Vancouver Winter Olympics Steven Holcomb
WRESTLING
Former European Middleweight Wrestling champion Vic Faulkner