Lewis Hamilton: BBC Sports Personality 2017 contender
BBC Sports Personality of the Year 2017
Date: Sunday, 17 December Time: 18:45 GMT Venue: Echo Arena, Liverpool Coverage: BBC One, Radio 5 live, BBC Sport website
We are showcasing each of the 12 contenders in the run-up to the Sports Personality of the Year award on 17 December. Today - Lewis Hamilton.
Age: 32 Sport: Formula 1
Year in a nutshell
Clinched his fourth world title at the Mexican Grand Prix in October with two races of the season still to go.
The achievement made him Britain's most successful Formula 1 driver, moving one championship clear of Sir Jackie Stewart, and he stands joint third in the all-time title standings behind Michael Schumacher (seven) and Juan Manuel Fangio (five).
Mercedes driver Hamilton, who is from Hertfordshire, also broke Schumacher's record of 68 career pole positions and now has 72.
Three-time F1 world champion Sir Jackie Stewart, the 1973 Sports Personality of the Year, on Hamilton:
"Lewis has a huge gift of natural talent and you have to match that with the little grey cells, and he has developed that as he's gone along.
"I think 2017 has been his best year in terms of winning and the manner in which he has done it.
"In the second half of this season Lewis has driven better than he ever has before. He is a very good driver indeed."
How did he get here?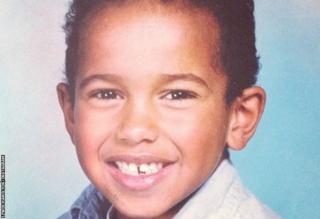 Hamilton started in karting aged eight and dreamed of becoming an F1 driver (1/5)
Started karting seriously when he was eight and won a British title by the age of 10.
Hamilton joined McLaren's young driver programme, and went on to enjoy success in the Formula Three and GP2 racing formats.
He made a sensational F1 debut in 2007, claiming four grand prix wins and missing out on the title by just one point behind Kimi Raikkonen.
Hamilton won his first championship the following year, and triumphed again in 2014, 2015 and 2017.
What he said: "I can't believe that I've got four. You've just got to enjoy the ones you have."
What you say
Dan McMahon: He's now a four-time F1 world champion, Britain's must successful ever driver, has moved above Michael Schumacher with the most pole positions and has been in a class of his own this year in his field.
Frazer Lloyd-Davies: Lewis Hamilton should win SPOTY. This year he became the first British driver to win four world titles in Formula 1. He's also won more races than any other Brit and had more poles.
Desktop Gamer: SPOTY winner is in no doubt for me - Lewis Hamilton. Taken a fourth world title, and destroyed record after record after record in 2017. Never heard an F1 driver spoken so highly of since Ayrton Senna.
Sports Personality record: 2015: 5th; 2014: 1st; 2008: 2nd; 2007: 2nd
Get Inspired
If you like fast-paced activities that get your heart pumping and your brain working, motorsport could be for you,
Visit the Get Inspired website to find out more on how to get into motorsport.
This article was originally published on 12 December, 2017.