Golf not the 'ideal' Olympic sport, says squash player Kemp
Last updated on .From the section Squash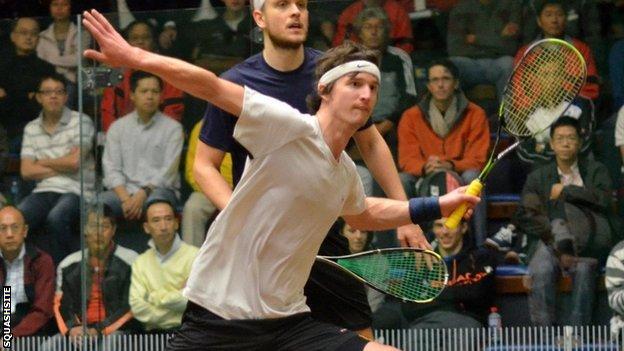 British squash player Jonathan Kemp still believes his sport should be considered for the Olympics - despite it losing out to golf for Rio in 2016.
And the world number 28 is adamant that it was only golf's money-making capacity that secured its inclusion.
"It's the Olympic ideals, the stuff they always go on about and I'm not sure that golf really fulfils all of those," Kemp told BBC Radio Shropshire.
"But it brings in the money and these days that's what it boils down to."
Shropshire-based Kemp added: "The London Olympics were fantastic. I watched pretty much all of it.
"But there was still that little part of you left thinking that it should have been us and it's painful.
"Golf will bring in a huge amount of money, which is why they went for it. But, in my opinion, that's not sufficient reason.
"We're still trying hard to get on the 2020 programme.
"It won't be in my playing career now but hopefully it will get there."
Squash has lost some of the popularity it had when reguarly featured on mainstream television following the success of Britiain's Jonah Barrington and Australian Geoff Hunt in the early 1970s and then the great Jahangir Khan in the 1980s.
"Squash went through a massive boom in the 1980s, which was when I started playing," admits the Wolverhampton-born player. "And it definitely dipped in popularity but it's growing again.
"Last year, there were only a handful of entries for the Shropshire Junior Open but this year they have over 80.
"It's massively growing in America, India and Malaysia. Egypt's another one. It's a major sport in all those countries."
As for Kemp, although now 31 and resigned to the fact that playing at an Olympic Games is now highly unlikely, he still has plenty of hunger.
"My highest-ever ranking was 20 and I always hoped I could have got into the top 10," he added.
"But I still feel like I've had a good go and had a great career. And I've no plans to stop.
"I'll be playing next week in Wolverhampton looking to qualify for the British Grand Prix in Manchester and then we've got the World Championships in Qatar later this year."