Nick Matthew beats James Willstrop to win British Grand Prix
Last updated on .From the section Squash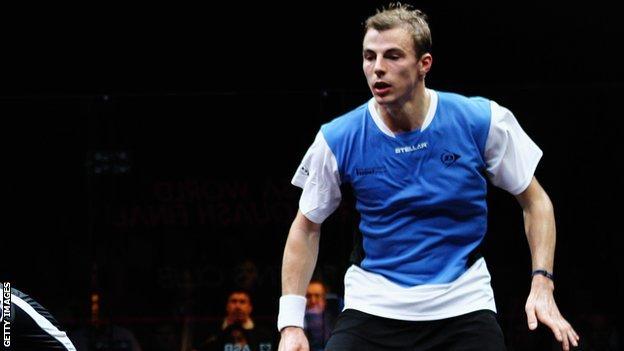 World champion Nick Matthew described world number one James Willstrop as his "fiercest competitor" after beating his compatriot at the British Grand Prix.
Matthew saw off his fellow Englishman 4-11 11-6 11-9 11-5 at the National Squash Centre in Manchester on Monday.
It was 32-year-old Matthew's 25th victory in 50 PSA World Tour finals.
"Everybody talks about James' racquet skills, but he's also the toughest and fiercest competitor I've ever played," Matthew said.
Willstrop, 29, had needed two hours to beat third seed Gregory Gaultier of France in the semi-finals, but Matthew added: "It doesn't matter what he's done before, his physicality is something to behold.
"I made a lot of errors in the first game, but I got it together in the end."
Matthew has now won his last 15 matches against Willstrop, who said: "It was a good quality match, we were both hitting the areas, and even if it maybe wasn't our sharpest it was still a good, enjoyable match.
"It was level and very tough. He managed to get through the crucial end of the third game better and that helped him push on in the fourth, where I couldn't quite get it together.
"There's some stuff I could have done better but he made it very difficult for me. All credit to him."