World Team Squash: Egypt women stun England in final
From the section Squash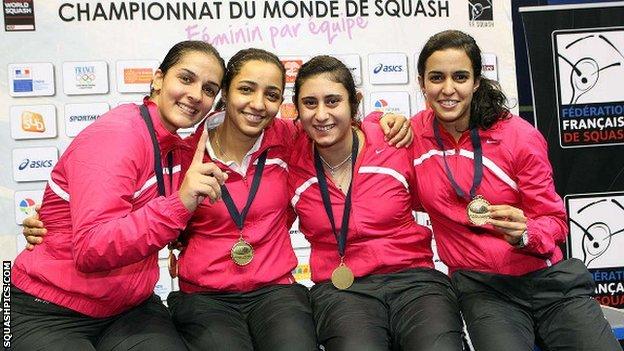 Second seeds Egypt upset tournament favourites England to win the squash Women's World Team Championship in Nimes, France.
Alison Waters got the top seeds off to a winning start in the final but Raneem El Weleily levelled before Omneya Abdel Kawy won a dramatic decider.
"We always thought it would be close - and hopefully we will learn a little from it," said coach Chris Robertson.
Third seeds Malaysia beat Australia to win a fourth successive bronze medal.
England were going for their seventh title in a 10th successive final, but their winless run since 2006 will continue after a narrow defeat.
Waters, the world number four, beat 17-year-old Nour El Sherbini 11-5, 8-11, 9-11, 11-3, 11-5 in the opening match, but El Weleily, ranked second, hit back with a 3-11, 12-10, 11-4, 12-10 win over England's world number three Laura Massaro.
It came down to a decider and England had victory within their grasp when Jenny Duncalf led 7-4 in the final game, but Abdel Kawy reeled of the last five points in a row for a 7-11, 11-8, 11-4, 6-11, 11-8 victory.
"It's so good for Egypt and so good for squash - it was a super final with three matches of unbelievable squash," said Egypt coach Amir Wagih, after his side won the title for the second time.
"Omneya is back on form - she gave a really classy performance.
"My players have now won all the world titles except one, and that is the women's World Open title, so I am hoping that I can complete the set at the end of the year in the Cayman Islands."