Squash World Championships: Willstrop and Matthew lose semis
Last updated on .From the section Squash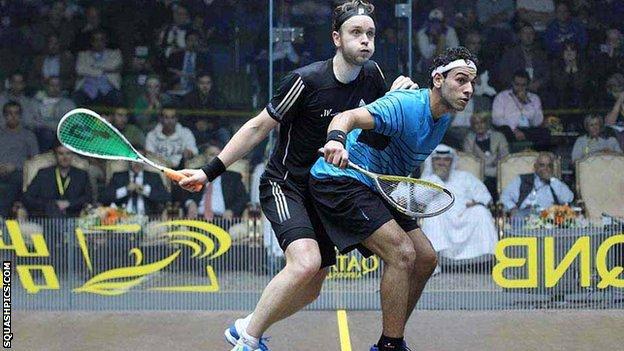 England's defending champion Nick Matthew and world number one James Willstrop were both knocked out of the squash World Championships semi-finals.
Two-time world champion Matthew, 32, was beaten 11-9 11-5 9-11 11-8 by Egypt's Ramy Ashour in Doha.
The victory means 2008 winner Ashour will replace 29-year-old Willstrop as world number one in January.
Top seed Willstrop lost 11-9 9-11 14-12 4-11 11-8 to Bristol-based student Mohamed El Shorbagy, 21, from Egypt.
Ashour started strongly against Matthew and only when the English defending champion fought back to lead 5-3 in the fourth did victory look in any doubt.
But Matthew was unhappy with the conduct of Ashour, claiming he ran into him several times knocking him over, which led to the referee giving the Egyptian a warning in the fourth game.
"That's the fifth or sixth time it's happened," Matthew was heard saying to the official. "I wonder if the roles had been reversed how long it would have taken to award a point."
After the match Matthew disappeared for a few minutes because he felt "too emotional" to talk, but returned to give credit to his opponent.
"It's difficult because I don't like losing," he said. "I am gutted, but he has been the best player in the world for a while now.
"He lobbed quite a lot and threw my game plan a bit. I have to go away and find a way to respond."
Ashour said he was "on top of the world" to reach the final.
"After being injured in the last two world championships it feels very good to be back in the final," he said. "And he (Matthew) was the most impressive player on the tour and has had a good attitude to the sport."
El Shorbagy, the youngest player in the world top 25, ended 29-year-old Willstrop's hopes of winning a first world title in a tight encounter.
It took almost two hours for him to claim the victory over the world number one from Leeds.
"I was cramping in my hamstrings, cramping in my quads and in my calf muscles - I was cramping everywhere," Bristol-based student Shorbagy said. "But I could feel how tired he was. I kept looking at his face and I could see it. It enabled me to feel that I could still push."
Willstrop will now lose his world number one ranking to Ashour and accepts he did not play well.
"I didn't quite get it right," he said. "He was hitting with purpose and ferocity.
"I am as strong as anyone in the world but I felt like there was a slight drop in intensity. I haven't had a session like that for a while."