Nicol David hopes to dominate squash until 2020 Olympics
By Piers Newbery
BBC Sport
Last updated on .From the section Squash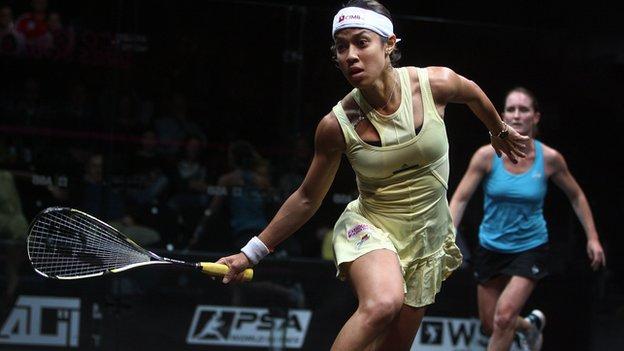 Of all the great athletes to walk through the doors of Queen's Club, few have swung a racquet more successfully than Nicol David.
The 29-year-old Malaysian arrived in London last week on the back of winning a seventh squash world title in eight years, and the bad news for her opponents is she's only just getting started.
"I'm at a place where I'm really finding a lot of things coming together and that's very exciting for me," says David, in London for the World Series Squash Finals.
"I know for a fact there are more things that could come and I want to see how far I can go, and that's the challenge I get from the girls because they are always coming closer and pushing me all the time.
"That's why I love that feeling when everything comes at the optimum; that feeling is very hard to describe and I strive for that. You just have to work hard."
David won her first world title in 2005, became world number one in 2006 and has dominated ever since, never more so than in 2008 when she remained unbeaten in winning all 10 tournaments she played.
At 5ft 4in and ever smiling, she might not appear on first meeting to be the cruel type, but David is a relentless and ruthless character on court and continues to set the pace off it.
Former world number two and, in David's words, "squash legend" Liz Irving takes coaching duties, while numerous physical trainers and physios and a sports psychologist help out both at her base in Amsterdam and around the world.
"The last few years I've really stepped it up because of the team around me," David explains.
"It gets harder and harder every year because my opponents know what to expect, and I know what is coming for me, and you have to always stay on your toes.
"But from the first world title up until now, every year the level has been so different. The players are so much closer and the depth is so much stronger, and there's a lot of sports science involved now."
David calls Amsterdam a "second home" after 10 years there and generally only makes it back to Malaysia a couple of times a year.
However, she remains grateful for the support and funding she has received since squash became part of the Commonwealth Games in Kuala Lumpur in 1998, allowing her to break the dominance of Australian and English women.
"We had a former world junior champion, Ong Beng Hee, who came to England and trained from a very young age," says David.
"He was the first champion who showed Malaysians we could do something. We got sent overseas to the British juniors and other events, and it sort of progressed from there. That's now 15, 20 years ago.
"As the publicity grows and the media coverage is getting so much bigger, it's just been amazing that the public is so supportive."
The success on court has led to countless awards off it, such as Asian Sportswoman of the Year, UN goodwill ambassador, Malaysian order of merit and Olympic torch bearer. But the one prize that would seal her place among the greatest athletes in the world remains out of reach.
but last summer David had to view the events of London 2012 like most others.
"Every day, on the sofa," she says. "Every sport you watch you just feel for the athletes. It was very disappointing and heartbreaking but we have a sport that deserves the place.
"We have to keep solid with the campaign this time. It's an honour to represent squash in any way and if I can get the message out there to back the bid then I will do whatever it takes."
David was present when the International Olympic Committee visited the spectacular Hong Kong harbour venue in December, and a positive decision in September could draw mixed feelings from her rivals.
"It's another motivation," she says of playing on until 2020.
"If I can help in any way to get squash in the Olympics, then I will push myself to stay in the game until then. It's a long time and I think when the time comes, I will probably have to manage fewer tournaments.
"But that would be the ultimate dream come true, to help squash get in the Olympics and then play in it."
So could we be talking about a 15-time world and first-ever Olympic squash champion in seven years' time?
"It would be hard to grasp that right now," says David, startled by the thought of it, "but I'm just looking forward to what's coming. It would just make a big difference for squash in every aspect."