Nick Matthew and James Willstrop resume their rivalry at Nationals
By James Peacock
BBC Sport
Last updated on .From the section Squash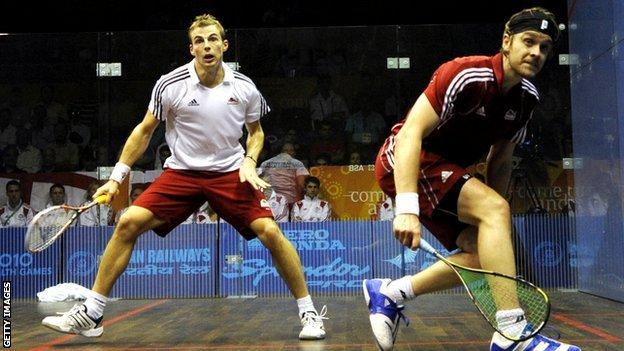 Squash has become used to being overlooked in recent years. It failed to make the cut for London 2012 and it has missed out again for the Olympic Games in Rio.
The sport's national headquarters sit in the shadows of the Etihad Stadium - a fitting metaphor, in many ways, for a sport trying to shine among its weightier opposition.
Leeds United go to Manchester City in the fifth round of the FA Cup on Sunday - but shortly after the final whistle goes one of British sport's fiercest rivalries could be renewed next door.
Nick Matthew, 31, and James Willstrop, 29, both from Yorkshire, face tough semi-finals at the National Championships - but there will be no surprise if the world numbers two and three are the last men standing.
They are the latest in a long line of great rivalries that squash has provided over the years.
Jonah Barrington and the Australian Geoff Hunt set the tone in the 60s and 70s, Jahangir and Jansher Khan inspired a generation in the 80s and early 90s and more recently Peter Nicol, like Barrington a British world number one, had some epic tussles with the Canadian Jonathon Power.
Now it is about Willstrop and Matthew and the fact they are both British adds extra spice.
"We have this rivalry that's captured the imagination because we're both from Yorkshire and we've had a few issues on court," said Willstrop.
The "few issues" dates back to the 2009 British Open Final when Matthew came from match-point down to win 12-10 in the fifth game.
Several words were had along the way as Matthew felt his opponent was being too slow in clearing a route to the ball.
"We were very unhappy with each other at the time," Willstrop said. "I wouldn't say our relationship is acrimonious - but we're not friends.
"There's definitely a respect for each other."
No doubt. Here are two sportsmen near the top of the world rankings and England team-mates who have known each other since childhood. Matthew vaguely recalls losing to an eight-year-old Willstrop.
Their matches since have been more memorable, like their semi-final at the 2010 Canary Wharf Classic, claimed to be "the greatest squash match ever played".
"I was always aware he was going to be the next big thing," Matthew said. "He was the golden boy of British squash.
"I never won a national title at junior level and he won everything, so I always felt like I had a point to prove."
As a double world champion, Matthew has proved his point, and as with many famous sporting rivalries, conflicting personalities are seldom far from the surface.
Both players are asked more about their shared history and enmity than anything else.
Willstrop has been described as a "very different sort of British sporting hero". He has written his own autobiography about the highs and lows of life on the professional squash tour.
He talks openly about losing his mother to cancer and he admits to having obsessive characters traits. He is also vegetarian - unusual for a leading sportsman - and a man with a passion for the arts taking in Oscar Wilde and Morrissey.
"We are different," Matthew said, "I'm more outgoing, wear my heart on my sleeve and I'm more likely to say what I think. Sometimes I say the wrong thing at the wrong time.
"But rivalries help make sports. It was Jahangir and Jansher [Khan] who got me interested in squash.
"Then it was Power and Nicol, and for me that rivalry was even better."
Willstrop was also inspired by those halcyon days.
He added: "That interest [in the Khans] was almost inexplicable. They used to play in front of 2,000 people at the Wembley Conference Centre. It was becoming the Wimbledon of squash and I think, for whatever reason, we've lost that impetus."
Make no mistake, the next generation of British squash players will be talking about Willstrop and Matthew and their rivalry could have been one of the stories of the Games.
Matthew said: "London 2012 was the best and the worst experience for me, if that makes sense, because I love Olympic sports and everyone in squash thought we'd be a perfect fit.
"That was a big opportunity for the sport and the thing squash will miss out on is ensuring a legacy."
Willstrop and Matthew might be the answer - but one of the curious things about their head-to-head record is that it's not that close.
Matthew has won 19 of their 24 competitive matches.
"I've never tried to work out why [I've got such a good record against him] because I think if I find out I might take things for granted." Matthew said.
"But they're always tight games. You don't often have two-hour matches in squash - but we've had plenty."
Willstrop, who spent 11 months last year as world number one, says he's unaffected by the record.
"I try not to think of it as a negative," he added. "I don't go out there thinking 'I can't work him out'; it's not like he's chopping me up every time because the matches are close."
The physical demands of squash mean that neither of these great British sportsmen will be around in 2020. If they are, they won't be at the peak of their powers.
Matthew said: "In terms of marketing itself, squash is now light years ahead of where it was. TV broadcasters are taking coverage from Squash TV [internet streaming of live matches], so it's looking promising for 2020."
Willstrop agrees that momentum is building - but 2013 is all about regaining the world number one spot.
And he knows his old foe will be fighting as hard.