England's Nick Matthew beaten by Ramy Ashour in Virginia final
Last updated on .From the section Squash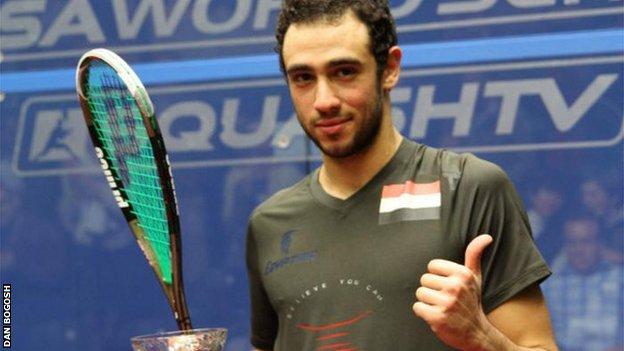 England's Nick Matthew was beaten 3-1 by world champion Ramy Ashour in the final of the North American Open.
Two-time world champion Matthew, beaten by the same opponent in last year's semi-final, lost 11-7 11-8 5-11 11-7 to the 25-year-old Egyptian in Virginia.
Ashour has now won 31 matches in a row and strengthened his grip on the number one ranking, with Matthew and France's Gregory Gaultier joint second.
"Nick is a great player and we seem to feed off this rivalry," said Ashour.
"We have met in so many finals and, whoever wins, the other one gets to work to raise their game to meet the challenge."
"We are both inspiring each other to work even harder. He plays great squash in all four corners of the court and you have to be playing your best squash to beat him."
Matthew said: "I have played well all week and didn't really do anything wrong tonight in the final, but it shows how well Ramy is playing that you can be playing your best and he can still win these big matches.
"He is on a long winning run at the moment and playing some great squash."