Squash: Laura Massaro - I can be world number one
By Piers Newbery
BBC Sport
Last updated on .From the section Squash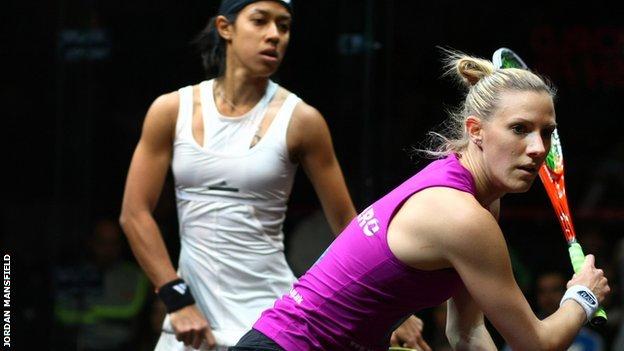 England's world number two squash player Laura Massaro believes she can overhaul seven-time world champion Nicol David at the summit of the game.
The 29-year-old on home ground last month on her way to winning the KL Open - her second win over the world number one this year.
The victories follow in last year's World Open final.
"I'm not someone who goes about my day-to-day training thinking I'm happy to be number two," Massaro told BBC Sport.
"However, it is the case that she's won the World Championships seven times; I think she's been world number one for five years straight.
"My goal is not necessarily just to beat Nicol but to become world number one, British Open champion, World Open champion.
"But it's like baby steps - you have to get the individual wins, take the points and see what it does to your ranking, rather than putting a target on any individual player's back, which can add up to quite a lot of pressure."
Massaro became with victory over compatriot Alison Waters in the final, 24 hours after defeating David.
"To beat [David] in the semi-final and then back it up in the final, people don't do that very often because it is so hard to beat her," added Massaro.
"I can't remember anyone beating her before a final and going on to win an event, so that's an achievement I'm very proud of - beating her in her home country and winning a World Series event is definitely up there."
Massaro is hopeful that squash is about to get a boost in profile as it is among eight sports vying for inclusion at the 2020 Olympic Games. The International Olympic Committee will cut the contenders to a final shortlist on 29 May.
"When you go into squash at a young age, you always know that you're never going to be a household name and earn millions of pounds," said Massaro, who lives in Preston and divides her training between a local club and the National Squash Centre in Manchester.
"You choose it because you love it and you want to do it as a job. I'm just lucky I've managed to get myself to a higher level where you can earn an OK living, and you do get recognised a little bit more.
"You just take what you can, where you can, and do the best you can to try to raise the profile of the sport. If we can get into the 2020 Olympics it would be another huge step. With so many players at the top of the world, I'm sure we would get medals."
David, 29, has already said she will try to play on until 2020 if squash is included in the Games, and asked whether she would follow suit, Massaro said: "That question's getting asked more and more.
"I'd love to be there, I'd love to get a chance to compete in an Olympic Games, but I don't think I can commit this far out. I'd be 37 - it's hard enough at 29!"