England men & women win European team squash titles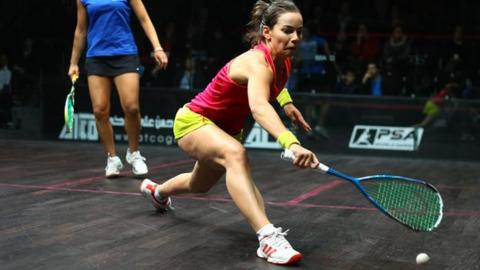 England's squash players retained their men's and women's team titles at the European Championships in Amsterdam.
The men's team only narrowly beat France on the number of games won after a 2-2 draw in the final.
Defeats for top two James Willstrop and Nick Matthew left the pressure on Daryl Selby and Peter Barker, who came through with 3-0 victories.
Laura Massaro and Jenny Duncalf took England to a 2-1 win over Ireland in the women's final.
Alison Waters and debutant Sarah-Jane Perry were the other members of the team that secured a hat-trick of titles for England's women.
The men looked like falling short against France after wins for Thierry Lincou and Gregory Gaultier, but their final was contested over a four-player format and England's strength in depth came to the fore through Selby and Barker.
"Pete Barker & Daryl Selby rescued us Yorkshire men today," said Matthew on Twitter. "Many congrats to the girls as well."
Scotland's men finished fourth after losing to Germany in the third/fourth play-off.
European Team Championships, Amsterdam
Women's Final - England 2-1 Ireland
Laura Massaro (Eng) beat Madeline Perry (Ire) 11-7, 11-5, 11-2 (29 minutes)
Alison Waters (Eng) lost to Aisling Blake (Ire) 5-11, 9-11, 6-11 (28 mins)
Jenny Duncalf (Eng) beat Laura Mylotte (Ire) 11-4, 11-5, 11-2 (23 mins)
Men's Final - England 2-2 France (England win on games countback)
James Willstrop (Eng) lost to Thierry Lincou (Fra) 11-4, 12-10, 5-11, 9-11, 5-11 (67 mins)
Nick Matthew (Eng) lost to Gregory Gaultier (Fra) 11-13, 6-11, 12-14 (82 mins)
Daryl Selby (Eng) beat Lucas Serme (Fra) 11-6, 11-4, 11-9 (48 mins)
Peter Barker (Eng) beat Gregoire Marche (Fra) 11-5, 11-8, 11-9 (53 mins)