Guernsey's Chris Simpson beaten by world number one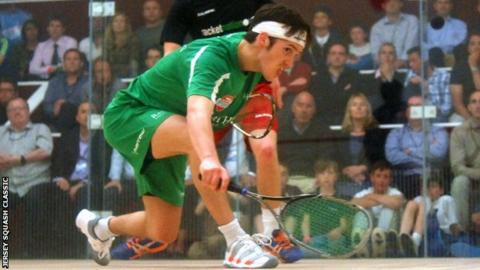 Guernsey's Chris Simpson says he is disappointed with how he started the match in his defeat to world number one Ramy Ashour at the British Open.
Simpson lost 11-2, 11-4, 11-9 to the Egyptian and trailed 10-0 in the first.
"It's not a nice feeling, the first couple of rallies of the match I had a few opportunities to play some quite easy drop winners," he said.
"But I got quite nervous after missing those easy shots and before I knew it i was facing game ball at 10-0."
The tournament was the last ranking event of the season for Simpson, who had beaten Switzerland's Nicolas Muller 7-11, 11-6, 11-9, 11-4 in the opening round.
"In the third game I managed to relax a bit more and push my game upon him a bit better than the first two," he told BBC Guernsey.
"I'm a little disappointed that I couldn't have started the match like that," he added.