Olympics: Squash to 'keep trying' for Games spot
By Kate Mason
BBC Kick Off reporter
Last updated on .From the section Squash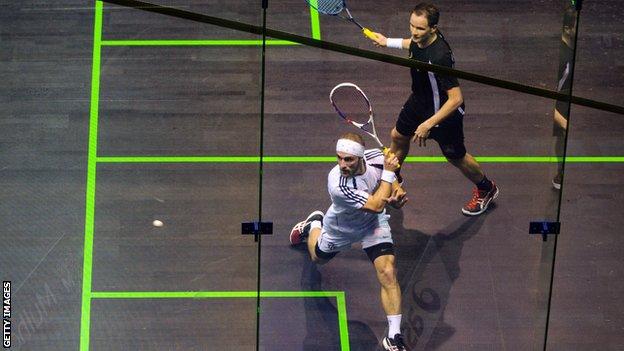 Squash's governing body will not give up its fight to get into the Olympics.
World Squash Federation chief executive Andrew Shelley told BBC Sport: "It's not finished yet. We'll keep trying.
"We will continue to grow and hope the Olympic door may open in the future. If there is a desire for additional sports, we hope to be in the mix."
IOC members voted in Buenos Aires to reinstate wrestling to the Olympics for the 2020 and 2024 Games.
The sport, which had surprisingly been dropped, was the pre-vote favourite and received a first-round majority of 49 votes, while the combined baseball/softball bid received 24 and squash 22.
"There was an overwhelming desire to see wrestling reinstated," said Shelley.
"The presentation party couldn't have done any more, but squash lost out on the day.
"We want to take our place at the top table of sport. The IOC meeting is not even over yet, so we need to sit down and regroup.
"I hope we represented our sport to the best of our ability, and we will continue to do so."
Although this is squash's third failed bid for a spot at the Games, Shelley says there are positives to be drawn from the campaign.
The sport had topped an IOC vote in 2005 for Olympic inclusion but failed to get the required two-thirds majority. It then failed again in 2009.
"There's still a groundswell in the sport," Shelley added.
"From a sports perspective, we put over our case very strongly. We felt it resonated with a huge number of the IOC members.
"We hope that there will be appetite for a new sport to revitalise the Olympics."