Guernsey's Chris Simpson excited by career milestone
Last updated on .From the section Squash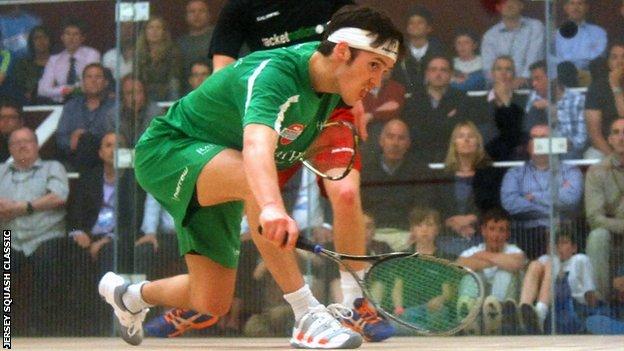 Guernsey's Chris Simpson says his likely rise up the world rankings represents a significant milestone in his squash career.
"It's a big step. It gets me in the top 23 so I automatically get into Super Series events," he told BBC Guernsey.
"It means I won't have to qualify, so I can go into the first round fresh. That's a big milestone for my career."
The new world rankings will be released on 1 October.
The 26-year-old, currently sitting at number 25 in the world, admitted he had not expected to perform so well at the Malaysian Open.
"It was a really tough draw against the number one seed and world number five Karim Darwish from Egypt in the first round," he said,
"He's an ex-world number one and doesn't really lose to anyone outside the top eight, so when I saw I was playing him I actually booked my flight back for the following day!
"Obviously I wanted to win and was thinking that if I did then I'd change my flight - but I wasn't expecting to win.
"The next day I backed it up with a win against Saurav Ghosal, a top 20 player that I'd never beaten before. And then I lost in the semis to the world number 10 Tarek Momen so all in all it's probably my best tournament results to date.
"I'd have loved to have won it but I gave it my all and played as well as I can play so I wasn't too disappointed all in all, to be honest.
"I can take a lot of confidence from the tournament I had but I also know the other players will have looked at that and know I've made some changes over the summer.
"Hopefully it will strike a bit of fear in some of the top guys I'll be playing."