Guernsey's Chris Simpson takes aim at top-10 ranking
Last updated on .From the section Squash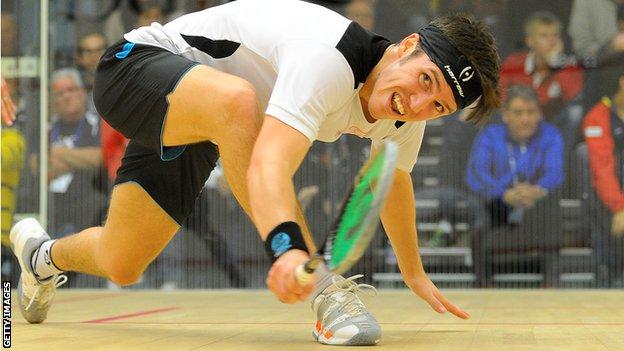 Guernsey's Chris Simpson says his narrow loss to Borja Golan at the World Squash Championships has given him hope of reaching the top 10 in the world.
Simpson fell to a 11-9 6-11 9-11 11-8 11-5 defeat against the ninth seed in a match lasting nearly two hours.
"It shows I can definitely play at around 10-in-the-world standard," he told BBC Guernsey.
"But it's making sure I win and play like that consistently, then I can move up to those sort of ranking positions."
Simpson, who recently moved up to 21st in the world after an excellent performance at the Malaysian Open, said the nature of the defeat was reason for optimism.
"I had my chances but in the fifth set I was quite tired and faded quite a bit - in the end he was too good," said Simpson.
"I was very disappointed but it's good to see I'm still improving. I played him about six weeks ago and lost 3-0 - it was good to push him so close and hopefully I can take some positives out of it."
The 26-year-old said the challenge of taking on Golan's unusual playing style was an eye-opener and could make him adapt his training routine.
"I felt like I was in good physical shape but the pace that the match was played and its rhythm was very different to what I usually play and the training I do," he said.
"It was slightly different for me and different stresses on my body and in the end it all took its toll.
"It was a very stop-start match and there was a lot of physical contact. It's not the type of game I necessarily want to be playing or that you play against 95% of your opponents but you need to be ready for every eventuality so it's something I'll address in my training in the future."