World Squash Championship: Nick Matthew reaches final
Last updated on .From the section Squash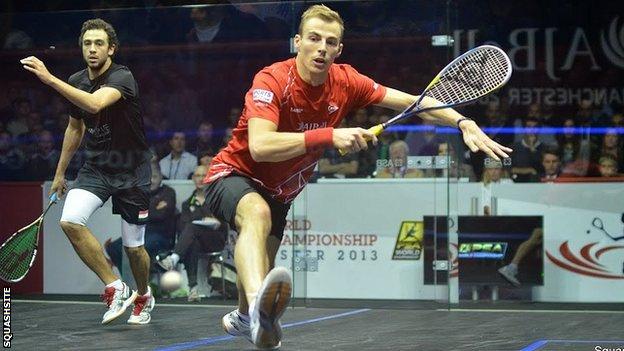 England's Nick Matthew reached the World Championship final after reigning champion Ramy Ashour retired from their semi-final in Manchester.
Ashour, unbeaten in the last 18 months, had been struggling with a leg injury all week and the Egyptian pulled out at 11-6 2-11 0-2.
Matthew, 33, goes on to face second seed Gregory Gaultier of France in Sunday's final.
"I'm not sure how to be feeling right now," admitted Matthew afterwards.
"You work your whole year for that and it's certainly not how you want to go into the final. I'll have to regroup. I feel really sorry for Ramy and the crowd."
Ashour, 26, made a terrific start and looked on course for his 50th consecutive win on tour - and 54th in total - after dominating the first game.
An unhappy Matthew was given a conduct warning for "ball abuse" before the start of the second game, and he took out his frustration on the court by racing through a brilliant six-minute game.
The much-anticipated clash looked to be living up to its billing but, after briefly leaving the court ahead of the third game, Ashour lasted just two more points before calling it a day.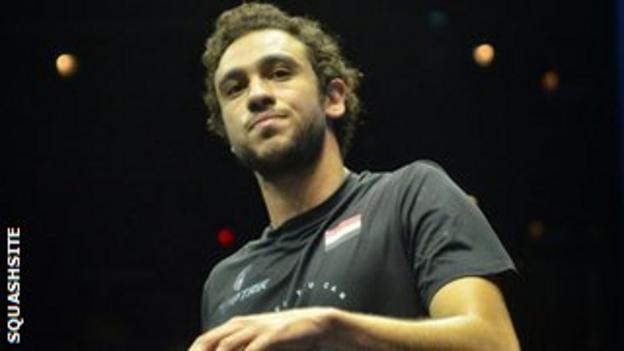 "It's obviously a big disappointment for me," he said. "They say I suffer from fatigue in the hamstring, and they are not sure if there is something I can do to prevent this from happening again and again.
"Now, I can't complain. I had a good season, a great season, and I have to take that loss like a man and accept that other people had bad times as well.
"But I have no fitness coach, and I've been stuffing myself with anti-inflammatory pills for months now, hoping that my body would hold. But the body just can't take it anymore."
Ashour had been to hospital on Thursday to check on his leg, and Matthew admitted the prospect of facing an injured opponent had affected him on court.
"He's been telling everybody all week but I've been trying to shut it out," said the Yorkshireman.
"I told myself, 'Don't look at him because that can put you off'. There are mind games at play, potentially - there obviously wasn't - but I have to stay in my little bubble really.
"I need to bring it together under pressure [on Sunday], come out and put that behind me.
"If it makes him feel better, I still consider Ramy being unbeaten - we want to beat him properly."
Matthew will attempt to win a third world title on Sunday against Gaultier, who beat sixth seed Mohamed Elshorbagy of Egypt 6-11 11-3 11-8 12-10.
Gaultier, 30, has been runner-up three times at World Championships, losing to Matthew in 2011, and the Frenchman has missed five match balls to win the world title during his career.
"I don't think about it too much," said Gaultier, who will also be up against the majority of the 1,200 spectators. "[Matthew] is a tough opponent - and he's English."