British Doubles Open squash: Scots & Welsh aim for success
Last updated on .From the section Squash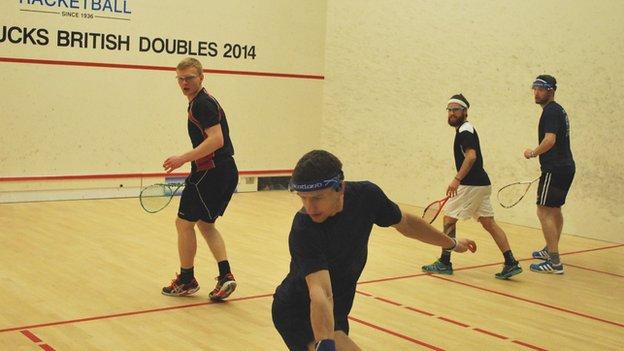 Scotland's top squash doubles players are being given a stern test by their Welsh rivals at the British Doubles Open Championships in Glasgow.
Stuart Crawford and Greg Lobban sit top of the men's doubles round-robin rankings going into Thursday's third and last day at Scotstoun.
Fellow Scots Alan Clyne and Harry Leitch and Welsh duo Joel Makin and Peter Creed can still win the event.
Clyne and Frania Gillen-Buchert are well placed to win the mixed doubles.
The experienced Scots beat Tesni Evans and Creed 2-0 in the mixed event on Wednesday, a score matched by Welsh National champion Deon Saffery and David Evans in defeating Hannah Davies and Makin.
This sets up a showdown on Thursday between the winning pairs.
Makin and Creed had earlier lost to compatriots David Haley and Florida-based Scott Fitzgerald and gave a competitive performance in losing 2-0 to Crawford and Lobban in Wednesday's closing game.
"This tournament is a great chance for all involved to prepare competitively for the Games," said Creed, whose Commonwealth doubles partner, former world number three David Evans, pulled out at the last minute with a slight injury.
"The Scots here are very strong and are providing rare and welcomed doubles practice.
"I wasn't quite expecting to be in a position to win this event as me and Joel have only played together once before, and he had his first ever game of doubles squash last summer.
"But we've both stepped up well after our early hiccup, and have stopped being afraid of losing and gone in with a winning attitude."
The women's event will also be decided on finals day, after Gillen-Buchert and Philadelphia-based Alex Clark bounced back from the opening day defeat with a 2-1 victory against Wales number one Tesni Evans and Saffery.
They will play for a third and final time in Thursday's opening match.
Results from day two of British Doubles Open Championships
Men's
Stuart Crawford and Greg Lobban (Sco) beat Anthony Brindle and Christian Navas (Gib) 2-0: 11/7 11/1
Lyall Paterson and Douglas Kempsell (Sco) beat Scott Fitzgerald and David Haley (Wal) 2-1: 11/6 7/11 11/10
Joel Makinand Peter Creed (Wal) beat Alan Clyne and Harry Leitch (Sco) 2-0: 11/10 11/9
Alan Clyne and Harry Leitch (Sco) beat Scott Fitzgerald and David Haley (Wal) 2-0: 11/3 11/0
Lyall Paterson and Douglas Kempsell (Sco) beat Anthony Brindle and Christian Navas (Gib) 2-0: 11/4 11/6
Stuart Crawford and Greg Lobban (Sco) beat Joel Makin and Peter Creed (Wal) 2-0: 11/8 11/5
Women's
Frania Gillen-Buchert and Alex Clark (Sco) beat Deon Saffery and Tesni Evans (Wal) 2-1: 11/6 6/11 11/8
Mixed
Frania Gillen-Buchert and Alan Clyne (Sco) beat Alex Clark and Kevin Moran (Sco) 2-0: 11/6 11/5
Deon Saffery and David Evans (Wal) beat Hannah Davies and Joel Makin (Wal) 2-0: 11/5 11/3
Alex Clark and Kevin Moran (Sco) beat Hannah Davies and Joel Makin(Wal) 2-0: 11/4 11/9
Frania Gillen-Buchert and Alan Clyne (Sco) beat Tesni Evans and Peter Creed (Wal) 2-0: 11/10 11/3