British Doubles Open squash: Scots & Welsh enjoy wins
Last updated on .From the section Squash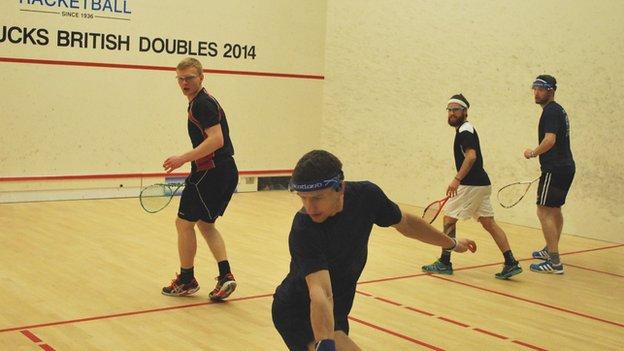 Alan Clyne and Harry Leitch beat fellow Scots Stuart Crawford and Greg Lobban to the men's title at the British Open Doubles Squash event in Glasgow.
Clyne and Leitch secured first place by beating Crawford and Lobban 2-1 in a final game decider.
Welsh duo Deon Saffery and Tesni Evans beat Scots Frania Gillen-Buchert and Alex Clark to secure the ladies title.
And there was also Welsh success in the mixed doubles tournament with Saffery and David Evans taking first place.
Results from day three of British Doubles Open Championships
Men's
Scott Fitzgerald and David Haley (Wal) beat Anthony Brindle and Christian Navas (GIB) 2-0: 11/7 11/0
Lyall Paterson and Douglas Kempsell (Sco) beat Joel Makin and Peter Creed (Wal) 2-0: 11/8 11/8
Alan Clyne and Harry Leitch (Sco) beat Stuart Crawford and Greg Lobban (Sco) 2-1: 11-10 4-11 11-8
Women's
Deon Saffery and Tesni Evans (Wal) beat Frania Gillen-Buchert and Alex Clark (Sco) 2-0: 11/6 11/7
Mixed
Alex Clark and Kevin Moran (Sco) beat Tesni Evans and Peter Creed (Wal) 2-0: 11/7 11/10
Deon Saffery and David Evans (Wal) beat Frania Gillen-Buchert and Alan Clyne (Sco) 2-0: 11/8 11/5