Nick Matthew beats James Willstrop to win national title
Last updated on .From the section Squash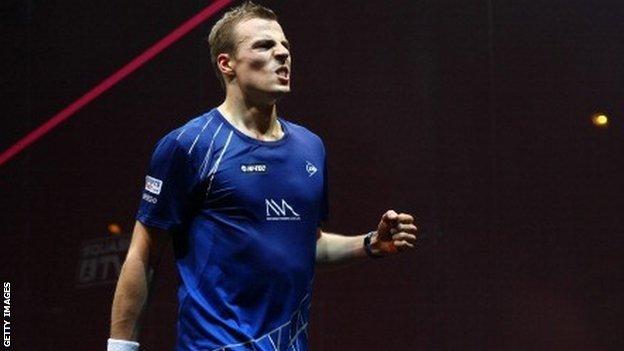 World number one Nick Matthew beat James Willstrop to win a record sixth National Squash Championships title.
Matthew, 33, beat his 30-year-old fellow Yorkshireman 5-11 12-10 11-4 11-8 in 72 minutes in Manchester.
It was the third time in the past four years the pair have contested the final, with Matthew beating his England team-mate on all three occasions.
Alison Waters, 29, successfully defended her women's title with an 11-3 11-6 11-6 victory over Madeline Perry.
Waters, making a record-equalling eighth appearance in the final, claimed her fourth title in 32 minutes at the expense of first-time finalist Perry.
She said: "I'm so pleased, I've had plenty of tough battles against 'Madders' in the past so I was ready from the start. I just played my game and was confident going into it. I'm so excited to have won a fourth title.
"Big respect to Madeline, I know how long she's wanted to get to a national final, she's 37 and if I'm still playing as well as she is at 37, I'll be delighted!"
Matthew, who won his third world title in November 2013, said: "That's got to be up there with one of my best ever wins against James. He was in such great form that, at the moment, it's relief more than delight, although I'm sure I'll be happy in five minutes.
"I won't be playing for much longer, which is why it means a lot to me, having all my family here and my support staff. I know I haven't got many more times left on this stage so I really do appreciate everyone's support."