Laura Massaro: Squash world champion feared chance had gone
By Piers Newbery
BBC Sport
Last updated on .From the section Squash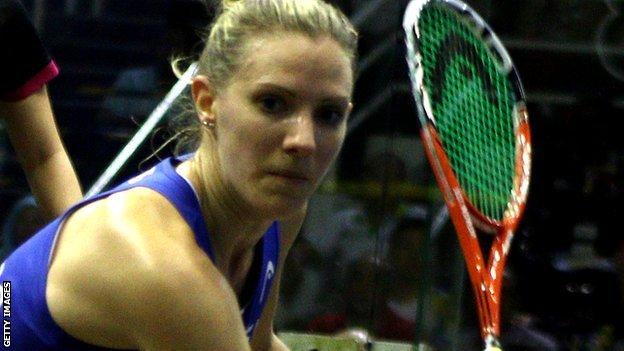 England's Laura Massaro thought her big chance of a first world squash title had gone in Sunday's final in Malaysia.
Massaro, from Chorley, told BBC Sport: "At 2-1 up I played probably one of the worst games I've ever played, mentally.
"My head had just gone away from the court completely. I definitely thought my chance had gone."
Egypt's Sherbini was the youngest world finalist at 18 years old after storming through the draw, beating the 10th seed, fifth seed, fourth seed and, in one of the biggest shocks in the sport's history, seven-time champion Nicol David in the semi-final.
Malaysian star David had beaten Massaro in the last world final in Grand Cayman, and the English player admitted: "It was a complete mix of emotions when Nicol lost to Nour.
"I felt excited because there was an opportunity there as I'd never lost to Nour before, so I go into the final knowing I have a very, very good chance of being world champion.
"But equally, there was also a bit of worry because when you play Nicol in a final, you go in with absolutely no pressure, like Nour would have done with me."
Facing defeat in the final game, Massaro reverted to her natural game to claw her way back and clinched victory on her second match ball.
"You can end up over-thinking it and at the end of the day you just have to be instinctive," she said.
"At 6-1 down I had a change of game plan, started mixing up the pace and straightening up rather than cross-courting, and that made a difference - the ability to stay calm and make the tactical change at that point."
England boasts both world champions after Nick Matthew, 33, won his third men's title in Manchester last November, and both players plan to continue for the foreseeable future despite being in the latter stages of their careers.
"I see myself going on until I don't enjoy it any more and I definitely look to Nick for inspiration," said Massaro.
"He's about three years older than me and I think he's won three world titles since turning 30. This is the highlight of my career now and you want to keep that peak going. While I'm still enjoying it and winning it my motivation will be high."
The pair share the same coach, David Pearson, who was four hours away from Penang giving a coaching course in Kuala Lumpur during Sunday's final.
"He knows how much work I've put in and there have been some ups and downs, some really emotional moments," said Massaro.
"That my technique held up under pressure shows all the hard work I've put in with him."
Massaro is officially the 2013 world champion, after organisers failed to secure a venue for the tournament during the calendar year, and she expects to be defending her title in 2014.
"It's definitely going to be this year and we're just waiting to see which venue can come up with the goods," said Massaro.
"It would be amazing to have a joint World Championships with the men, but it's looking really positive that a repeat of last year won't happen again."