Squash: Nick Matthew beats James Willstrop at Canary Wharf
Last updated on .From the section Squash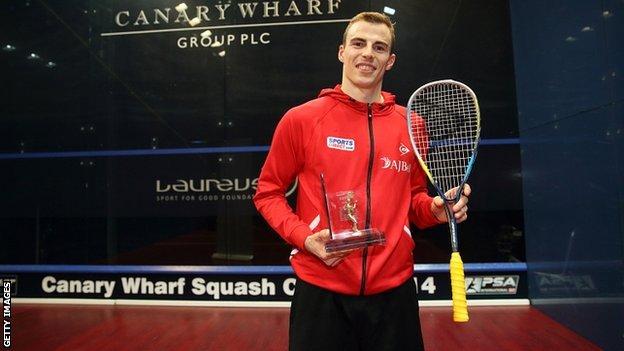 World squash champion Nick Matthew beat long-time rival and defending champion James Willstrop to win the Canary Wharf Classic in London for the fourth time.
Matthew, 33, came through 11-5 11-5 11-5 to extend his winning run over fellow Yorkshireman Willstrop to 16 matches and seven years.
The final was watched by Laura Massaro, who became in 15 years on Sunday.
Matthew won his third world title in Manchester last November.
"I said to Laura she was going to inspire me this week," said Matthew, who shares a coach with Massaro in David Pearson.
"I'm so proud of her and pleased to be able to win my final tonight."
He added: "I'm feeling elated at the moment. That was one of the best performances of my career.
"My dad said that you only get four or five 'best' performances like that in your career and I think I definitely used one of them tonight.
"I think it was little things that made the difference.
"I didn't make many mistakes, I attacked well and moved well and tried to keep the game simple, and it paid off tonight, but there's a lot of other big events coming this year."
Matthew and Willstrop, who have now won the Canary Wharf tournament four times each, will next set their sights on the British Open in May and then the Commonwealth Games in July.