Nicol David says squash's British Open fails to showcase women
Last updated on .From the section Squash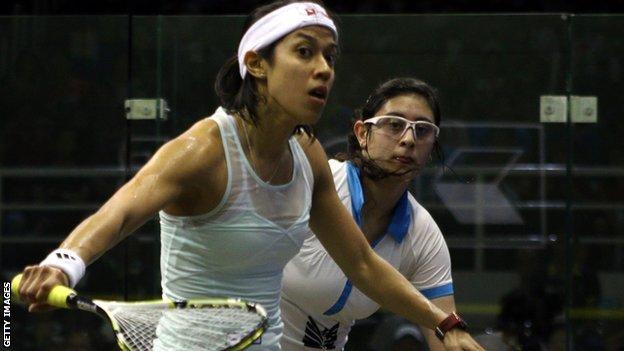 Nicol David says the British Open, which began in Hull on Monday, is letting down women by staging first-round matches away from the all-glass show court where the men's take place.
The world number one beat Egypt's Heba El Torky on a conventional plaster court a mile away from the main court.
"You have a women's world champion," David said, referring to her English rival Laura Massaro.
"Why not put them all on the glass court? That's what makes sense."
She added: "There are also so many English players in the top 10 or top 12 and they are all here - surely you want to display them?"
While the men's first-round matches, including those featuring English world number six James Willstrop and Egyptian defending champion Ramy Ashour, were played at Hull's Sports Arena, the corresponding women's matches took place at the University of Hull.
Jim Lord, operations director at England Squash & Racketball said the reasoning behind this was because of scheduling problems.
"Having so many matches in both draws to get through in seven days presents us with operational and scheduling challenges, and while we would love to play every single match on the glass court, that simply isn't possible," he said.
"The Allam British Open is proud to be a showcase for world class squash, regardless of gender."
The women's matches will switch to the all-glass court, which are colder and offer less bounce, from the second round.
The arrangement was in place last year when the event was also held in Hull.
There were several upsets on the plaster, with world championship finalist Nour El Sherbini and Irish world number eight Madeline Perry losing.
However, Massaro beat Hong Kong's Joey Chan 11-3 11-4 11-7 in only 26 minutes.
Previous promoters of the British Open have been worried about poor ticket sales for the women's event.
David's coach, Liz Irving, said: "If you don't want the tournament to take longer the best way to do it would be to have two glass courts in the arena and play the women's and the men's matches side by side."
The tournament aims to offer equal prize money for men and women at next year's event, after increasing the total prize fund for women to about £60,000 for this year.