Squash: Chris Simpson happy despite Gregory Gaultier loss
Last updated on .From the section Squash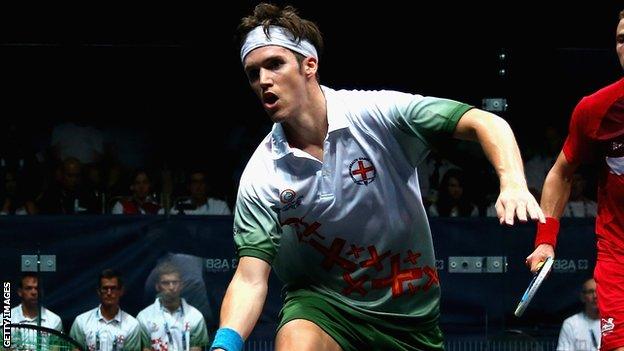 Guernsey's Chris Simpson says he is pleased with the way he played despite losing to the world number one.
Simpson went down 11-9, 11-4, 11-4 to France's Gregory Gaultier at the NetSuite Open in San Francisco.
The result was an improvement on his 11-4, 11-2, 11-3 loss to Gaultier at the British Open in May.
"I was happy that I managed to change my tactics and perform a lot better than I did the last time I played him," Simpson told BBC Radio Guernsey.
"Last time I felt that the difference was huge," Simpson, who is ranked 23 in the world, added.
"But this time I noticed several things that I could do that were causing him a little bit of trouble.
"I had to go out there and enjoy it, I wasn't expecting much and wasn't putting any pressure on myself so that helped."
Simpson, who reached the quarter-finals of the Commonwealth Games in Glasgow, competes in the US Open in Philadelphia next month before taking a four-week break to prepare for the World Open in Qatar.
"It's not something I've done in the middle of the season before, but it's something that I felt I needed to do this year because of the Commonwealth Games," said Simpson.
"I didn't have the extended break to get all the training in during the summer, which is our off-season, so I hope I can enter the World Open in my best form."