Squash: Greg Lobban and Alan Clyne in tough US Open challenge

By Keir Murray
BBC Sport Scotland
Last updated on .From the section Squash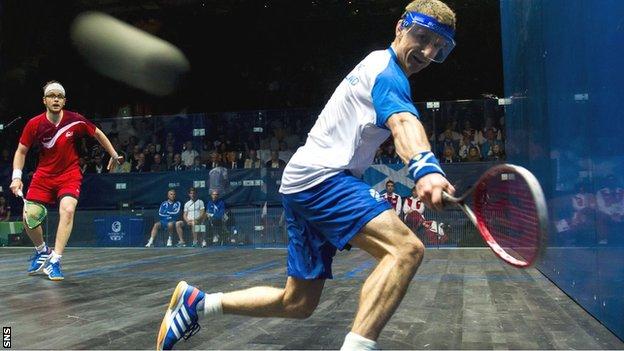 Scotland's top two male squash players face a difficult challenge to progress to the last 16 of the US Open.
Greg Lobban, 22, has come through two qualifying rounds against America's Gilly Law and Campbell Grayson of New Zealand to join Alan Clyne in the last 32 of the tournament in Philadelphia.
He now plays the world's second-best player, Mohamed Elshorbagy of Egypt, on Saturday afternoon.
Clyne plays Londoner Adrian Grant, ranked 23rd, later that evening.
The Inverness pair represented Scotland at the Commonwealth Games in Glasgow, with Clyne, 28, just missing out on a bronze in the men's doubles with partner Harry Leitch.
After a period of rest they have played in smaller tournaments before the US Open, described by Scottish Squash national coach Roger Flynn as "one of the major events in world squash".
Scottish Squash national coach Roger Flynn
"I'd much rather see two players at the US Open than one player and a coach."
Flynn said of the Inverness pair: "This is the first really significant event since the Commonwealth Games that they'd set themselves for.
"Both have had warm-up losses but have turned them around in the next event.
"The US Open is by far one of the most popular events. Everyone plays the US Open."
Flynn would not write off the Inverness pair's chances of progressing deep into the tournament, but he acknowledges Lobban and Clyne, the latter ranked 38th in the world, are up against top-class opponents.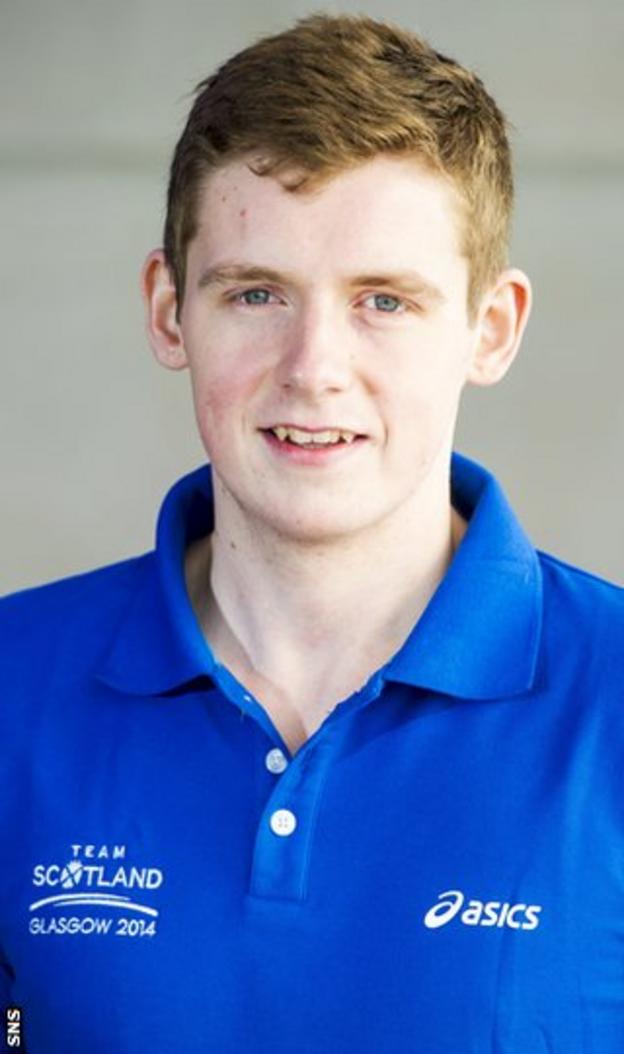 "Greg has managed to draw the world number two in the first round, Mohamed Elshorbagy," he told BBC Scotland.
"He's a really exciting player. Realistically, Greg would be very lucky to do well against this young bloke but what an experience for him in this early part of his career.
"Alan has a 2-1 head-to-head against Adrian. With Alan's style of play and the fact he is improving rapidly, and Adrian probably coming towards the end of his career, it's a good time for him to be stepping up.
"If Alan gets past Adrian, he'll come up against the world number one seed, Gregory Gaultier of France. He's had some ding-dong matches against him.
"It's so close at the top end of the sport that anyone can win but realistically you're expecting Gregory to beat Alan."
Flynn is not concerned that Lobban has had to play two qualifying matches before his contest against Elshorbagy in the heartland of American squash, where Flynn's predecessor Paul Frank now runs the largest squash club in the country.
He said: "Greg won both qualifiers in straight games. Both he and Alan have huge engines. They work so hard to get their fitness levels right up. Alan is known as one of the fittest players in the world and Greg is right behind him on that front."
Limited finance dictates that Flynn must communicate with the players electronically from home during the tournament, rather than being there in person.
He said: "We spend a lot of time rehearsing their game plans before they go. While they are in America, we use Twitter, Skype and email.
"Our sport is supported by sportscotland through Lottery funding. If I go to events it means someone can't go to another one. I'd much rather see two players at the US Open than one player and a coach."
The next big event at home for the country's top players is the Scottish National Championships in February and March.