Laura Massaro targets world number one ranking
Last updated on .From the section Squash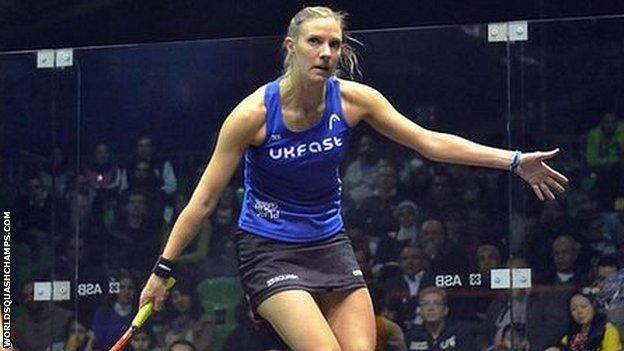 Former world champion Laura Massaro has set her sights on topping the sport's rankings list.
The 31-year-old has never been world number one, and last month.
She was the first English woman ever to hold the and titles when she won the 2013 events.
"I believe in every training session that I can still challenge for the number one spot and win more titles," she told BBC Radio Jersey.
Massaro also missed out on gold at the Commonwealth Games in Glasgow last year, losing to current world number one Nicol David in straight games.
She is now focusing on the forthcoming World Series events, starting with the Tournament of Champions, which will be held in a glass court at New York's iconic Grand Central Station later this month.
"I didn't manage to defend my World Open title in December so I'm looking really to try and do as well as I can in all the World Series events." Massaro said.
"There's a lot of targets to hit and as a competitor you want to try and win as many as you can, but to grab a handful would be amazing."