Nick Matthew hopes to be fit for British Open after ankle injury
Last updated on .From the section Squash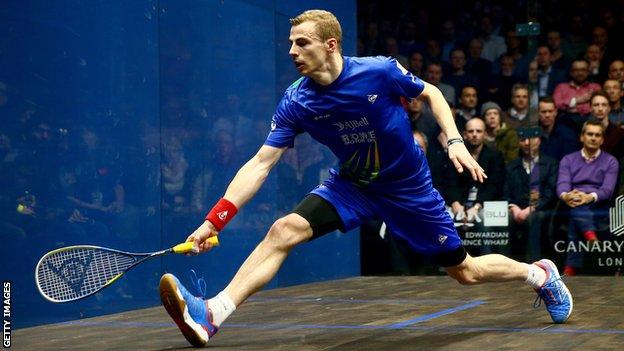 Nick Matthew has returned to the court as he attempts to get fit for the British Open, which starts on May 11.
Britain's 34-year-old Commonwealth champion said his preparation had been "scrambled" after he injured an ankle at the El Gouna International in April.
Matthew had been in excellent form prior to his injury, winning four consecutive tournaments to move up to second in the world rankings.
"The injury has not been as quick to improve as I may have liked," he said.
"It's been a bit of a process to get back on court so my preparation has been far from ideal."
Matthew is looking to reclaim a title he won in 2006, 2009 and 2012.

The third seed, he is scheduled to face a qualifier in the first round.
And he has been working with rugby league legend Ellery Hanley in the lead-up to the tournament at Hull's Airco Arena.
The pair have worked together on a casual basis for five years, with former Great Britain captain Hanley joining Matthew for tournaments in Britain.
"Ellery helps me to think clearly under pressure and reminds me of how much my work as an athlete means to people," he said.
"He's always telling me I'm a superstar but he's the superstar.
"With my plans having been scrambled, I will need to draw on his advice more than usual."
Hanley, 54, focuses on the psychological side of Matthew's game.
He said: "Nick doesn't realise the respect the other players have for him and I will remind him of that."
Egypt's world champion Ramy Ashour has withdrawn from the event after injuring his Achilles tendon.