Men's World Team Squash Championship in Cairo postponed
Last updated on .From the section Squash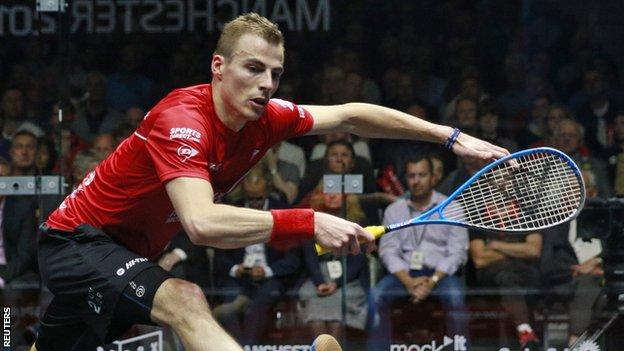 The Men's World Team Squash Championship in Cairo, Egypt has been postponed after a number of teams pulled out over security fears.
England, France, Germany, Finland, Canada and USA withdrew from the event, which was due to begin on 12 December.
The Foreign Office considers Egypt to have a "high threat from terrorism".
But Egyptian Squash Federation president Assem Khalifa said: "We request this postponement with a heavy heart as Cairo is a safe city."
He added: "All arrangements for the holding of the event are in place, including full government support. There is no reason for the championship not to proceed.
"However, we are mindful that some teams did not wish to attend the championship for their own reasons and wish to end any uncertainty for other nations in a positive way by postponing until a later date."
Last week, when England withdrew from the tournament, England Squash chief executive Keir Worth said: "The safety of our players and staff remains our only priority and, at this time, we have real concerns.
"Following the release of security plans for the event and subsequently a comprehensive report from independent security advisers, we have concluded there is an inherent risk that has not been mitigated to an acceptable level.
"We have been through a significant consultation with the players and support staff over recent weeks and we are extremely disappointed to be withdrawing."
England's four-man squad of Nick Matthew, James Willstrop, Daryl Selby and Chris Simpson were consulted by England Squash and agreed unanimously with the decision not to take part.
Simpson told BBC Radio Guernsey: "Overall the general feeling from the players was that whilst we were desperate to play for England and win the title, we weren't massively happy going there.
"The decision that was made was right."