World Squash Championship: Laura Massaro beats Omneya Abdel Kawy
Last updated on .From the section Squash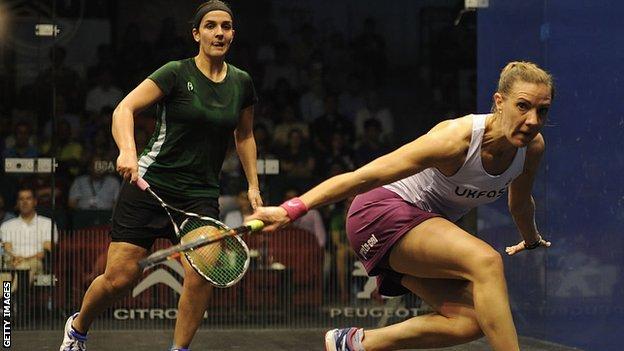 World number one Laura Massaro is through to the semi-finals at the squash Women's World Championship after a hard-fought win over Egyptian sixth seed Omneya Abdel Kawy in Malaysia.
England's Massaro, the top seed and 2013 champion, won the quarter-final 11-3 10-12 11-8 11-7 in 46 minutes.
Massaro, 32, will face Egyptian third seed Raneem El Welily in the last four.
Malaysia's eight-time champion Nicol David suffered a 14-12 4-11 11-3 11-7 defeat by Egypt's Nour El Sherbini.
"The semi-final of a World Championship is a big match for both of us," Massaro told the PSA World Tour.
"I just want to make sure that I get the best possible performance out and, if that's good enough to win, then fantastic.
"If not then I'll be unhappy, but if you can give yourself a break and know that you played well, then you can be happy."
Fifth seed El Sherbini, who finished runner-up behind Massaro in 2013, will play compatriot Nouran Gohar in the semis.
"It's disappointing to lose that one," said 32-year-old David. "I'm definitely going to be fighting for that next one.
"The main thing is that my body is good, I'm feeling really good and now I've just got to fine-tune a few things that I'm adjusting and adding to my game. For me, it's very exciting times."