Squash World Team Championship: Egypt beat England in final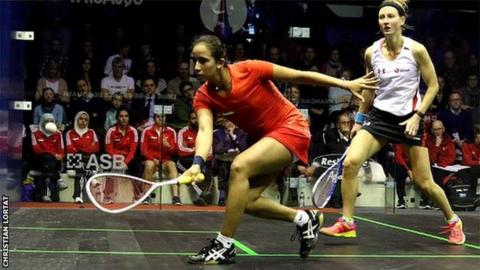 Top seeds Egypt fought back to beat defending champions England and win the squash Women's World Team Championship.
Egypt went into the tournament in Paris as favourites with the top three players in the world in their team.
Laura Massaro gave England the lead in the best-of-three final with a 9-11 11-5 11-6 11-6 win over Nour El Sherbini.
Nouran Gohar levelled with a 11-6 11-4 12-10 win over Alison Waters, and Raneem El Welily then beat Sarah-Jane Perry 12-10 11-4 11-6 in the decider.
It was the third final in a row involving these two teams, with Egypt winning in 2012 before England claimed the title for a seventh time in 2014.
Egypt coach Amr Shabana said: "Laura came out strong, as expected. She didn't give away any cheap points. Her fighting spirit won the crucial points.
"Nouran proved why she is number three in the world and Raneem showed her amazing athleticism and her amazing technical prowess.
"I can sum up my feeling in two words: Mission accomplished!"
England national coach David Campion said: "Egypt were just too strong. Raneem and Nouran played at their best levels, but they needed to as our girls performed well.
"Gohar was relentless and Raneem played fantastic squash."