British Open squash: Laura Massaro, Nick Matthew & Emily Whitlock reach last eight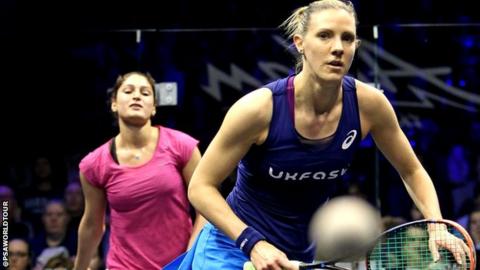 English pair Laura Massaro and Nick Matthew, both former champions, are safely into the quarter-finals of the British Open in Hull.
Massaro, the fifth seed and 2013 champion, defeated Egyptian qualifier Mayar Hany 11-5 11-1 11-9.
Matthew, who is trying to win his first British Open title since 2012, beat German Simon Rosner 11-7 11-5 5-11 11-3
Thirteenth seed Emily Whitlock upset eighth seed Alison Waters 11-4 11-7 11-9 in an all-English last-16 contest.
Massaro, 33, a former world number one, recovered from falling 4-1 down early on, saying: "She came out quite attacking and it took me a few rallies to calm things down.
"I needed to get some longer rallies into the game and I just tried to get on the volley, take the ball early and just keep the pace really high."
Whitlock, the world number 15, is through to the quarter-finals for the first time, and said: "I just didn't think I'd win. I'm pretty chuffed about it.
"I've beaten Alison once before in practice but it's never the same - tournament wins are just amazing."
British Open seeds
MEN
WOMEN
1. Mohamed Elshorbagy (Egypt)
1. Nour El Sherbini (Egypt)
2. Karim Abdel Gawad (Egypt)
2. Camille Serme (France)
3. Gregory Gaultier (France)
3. Raneem El Welily (Egypt)
4. Nick Matthew (England)
4. Nouran Gohar (Egypt)
5. Ramy Ashour (Egypt)
5. Laura Massaro (England)
6. Marwan Elshorbagy (Egypt)
6. Nicol David (Malaysia)
7. Ali Farag (Egypt)
7. Sarah-Jane Perry (England)
8. Tarek Momen (Egypt)
8. Alison Waters (England)