British Open squash: Sarah-Jane Perry joins Laura Massaro & Emily Whitlock in last eight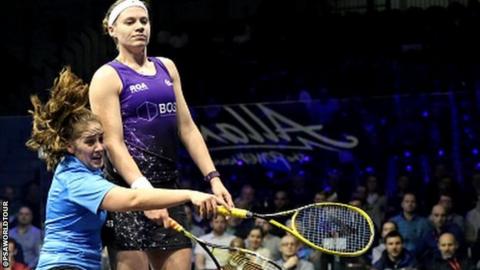 Sarah-Jane Perry became the third English woman to reach the British Open quarter-finals in Hull with victory over Tesni Evans of Wales.
Perry, the seventh seed, won 11-5 11-8 11-8 to join Laura Massaro and Emily Whitlock in the last eight.
She goes on to face Australia's Donna Urquhart, who beat Egyptian qualifier Nada Abbas 11-3 11-8 6-11 11-1.
"It's fantastic that we've got three English women through to the quarter-finals," Perry told the PSA World Tour.
"I can't remember that happening many times at the British Open, it shows that we're really pushing on and challenging the Egyptian reign."
Malaysia's five-time champion Nicole David, seeded sixth, saw off Hong Kong's 14th seed Joey Chan 11-4 14-12 9-11 11-2.
French second seed Camille Serme beat Nour El Tayeb of Egypt 11-8, 11-9, 5-11, 11-9.
In the men's event, France's former champion and third seed Gregory Gaultier was impressive in a 11-1 11-3 11-2 win over Australia's Cameron Pilley.
There were wins too for another former champion, Ramy Ashour of Egypt, and France's Mathieu Castagnet, while Mohamed Abouelghar beat second seed and fellow Egyptian Karim Abdel Gawad.
England's three-time winner Nick Matthew is already through to the quarter-finals.
British Open seeds
MEN
WOMEN
1. Mohamed Elshorbagy (Egypt)
1. Nour El Sherbini (Egypt)
2. Karim Abdel Gawad (Egypt)
2. Camille Serme (France)
3. Gregory Gaultier (France)
3. Raneem El Welily (Egypt)
4. Nick Matthew (England)
4. Nouran Gohar (Egypt)
5. Ramy Ashour (Egypt)
5. Laura Massaro (England)
6. Marwan Elshorbagy (Egypt)
6. Nicol David (Malaysia)
7. Ali Farag (Egypt)
7. Sarah-Jane Perry (England)
8. Tarek Momen (Egypt)
8. Alison Waters (England)