British Open squash: Laura Massaro, Sarah-Jane Perry & Nick Matthew reach semis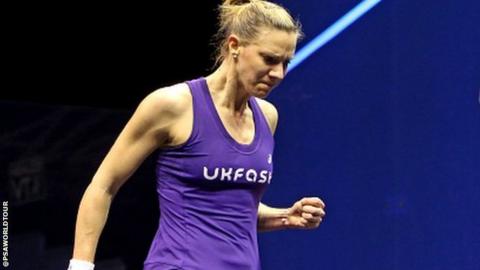 England's Laura Massaro, Sarah-Jane Perry and Nick Matthew are through to the British Open semi-finals in Hull.
Massaro, the fifth seed and 2013 champion, beat Egypt's third seed Raneem el Welily 11-3 13-15 11-6 11-6.
Seventh seed Perry joined Massaro with a dramatic 11-4 7-11 13-11 6-11 11-4 win over Australia's Donna Urquhart.
In the men's draw, two-time champion and fourth seed Matthew saw off Egyptian eighth seed Tarek Momen 11-9 10-12 11-6 7-11 11-6.
Matthew next faces top seed Mohamed Elshorbagy, who was in trouble when he trailed fellow Egyptian Ali Farag in the fourth game, but recovered to win 11-8 9-11 8-11 12-10 11-5.
Massaro, 33, goes on to face Egypt's top seed and reigning champion Nour el Sherbini in a repeat of of last year's World Championships final, which the Egyptian won from 0-2 down.
"It was a big quarter-final," Massaro told the PSA World Tour. "It always feels like a big match when you play Raneem, it definitely felt bigger than a quarter-final."
El Sherbini, 21, beat England's 13th seed Emily Whitlock 11-3 11-4 11-4 in the first of the quarter-finals.
British Open seeds
MEN
WOMEN
1. Mohamed Elshorbagy (Egypt)
1. Nour El Sherbini (Egypt)
2. Karim Abdel Gawad (Egypt)
2. Camille Serme (France)
3. Gregory Gaultier (France)
3. Raneem El Welily (Egypt)
4. Nick Matthew (England)
4. Nouran Gohar (Egypt)
5. Ramy Ashour (Egypt)
5. Laura Massaro (England)
6. Marwan Elshorbagy (Egypt)
6. Nicol David (Malaysia)
7. Ali Farag (Egypt)
7. Sarah-Jane Perry (England)
8. Tarek Momen (Egypt)
8. Alison Waters (England)