Laura Massaro into sixth successive World Championships quarter-finals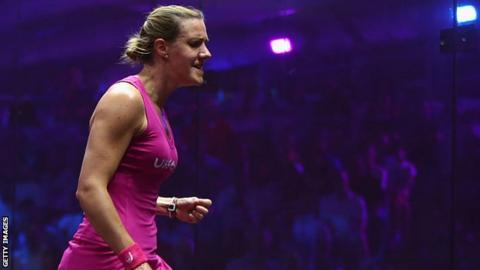 England's world number two Laura Massaro is through to a sixth successive women's World Championship quarter-finals after defeating Joelle King in Egypt.
Massaro, who claimed the British Open title last month, beat the New Zealander 3-1 (11-7 11-8 5-11 13-11).
"I was in a little bit of a battle really," said the 33-year-old.
England duo Alison Waters and Emily Whitlock both failed to join Massaro in progressing to the last eight.
Eighth seed Waters was beaten 3-2 (11-5 7-11 9-11 11-8 11-9) by Indian number one Joshna Chinappa, while Whitlock, the 13th seed, lost 3-0 (11-4 11-6 11-5) to Camille Serme of France.
Massaro will next face either Egypt's Raneem El Welily for a place in the semi-final.
"It's quite hot on there and it's quite bouncy being on a plaster court." Massaro, who is bidding for a second World Championships title, added.
"Joelle is such a good player, she's so physical and I'm just pleased to get through that in the end."