World Team Squash Championship: England, Wales and Scotland reach last 16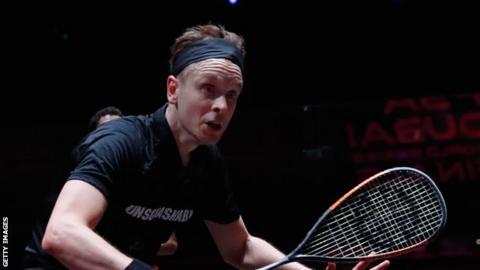 England, Wales and Scotland have all reached the last 16 of the Men's World Team Squash Championship in Marseille.
Defending champions England beat Argentina and Finland to top Pool B.
Wales lost to Australia but eased to a 3-0 win over Czech republic to reach the knockout stages, while Scotland beat Jamaica to win through.
The top 16 seeds all progressed to Thursday's last 16, where England face Switzerland, Wales play third-seeds France and Scotland meet Malaysia.
England trio James Willstrop, Daryl Selby and Nick Matthew secured their win over Argentina, while Adrian Waller came in for Matthew in the victory over Finland.
England are number two seeds for the tournament behind Egypt and will be expected to beat Switzerland, who are seeded 16th.
Wales, who have not played at the event since 2009, eased past Czech Republic as Joel Makin, Peter Creed and Emyr Evans picked up wins.
"We have to prioritise which world team events we play and haven't played this event for a few years," explained Welsh national coach David Evans, a former British Open champion. "But with Joel at his highest world ranking and Peter and Emyr both playing well, we thought we could do well here."
Alan Clyne, Greg Lobban and Kevin Moran picked up straight-game wins to overcome Jamaica.
"At this stage of the event, it can come down to little swings of momentum one way or the other and we're ready to deal with that," said team boss Martin Heath.