World Squash Championships: Nick Matthew happy with 'home comforts'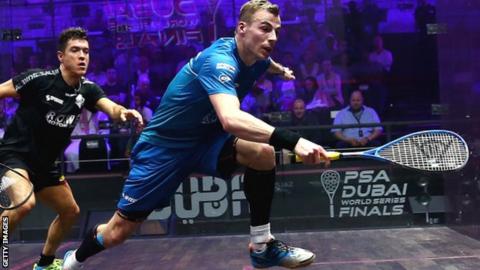 World Squash Championships
Venue: National Squash Centre (Manchester) and Manchester Central Dates: 8-17 December
Qualifiers and all rounds to last 16 at National Squash centre (8-13 Dec). Quarter-finals onwards at Manchester Central (14-17 Dec)
British number one Nick Matthew is hoping the Manchester crowd that helped him become world champion in 2013 will inspire him again over the next week.
Matthew, 37, is preparing for his last World Open, having announced he will retire from the sport following the Commonwealth Games in April.
He needed almost two hours to beat Gregory Gaultier in the 2013 final.
"That crowd was the best I've had in this country," Matthew told BBC Sport. "They really carried me over the line."
Sheffield-born Matthew also won the world title in 2010 and 2011, and is a three-time British Open champion.
"In Manchester, you've got the home comforts," he said. "You don't have the airline travel to factor in, and the National Squash Centre has been in Manchester since 2002 so it's somewhere we've trained as part of the England squad."
Matthew is fifth in the world rankings, while compatriots James Willstrop and Daryl Selby are 10th and 15th respectively.
But with Willstrop, 34, the youngest of the trio, there are fears British squash may not continue to be a global force once they retire.
"It's going to be tough," said Matthew, who has an academy dedicated to finding the next generation of English squash players.
"It's well-documented that Egypt are a dominant force at the moment. We've had a great era of players at the top level so we're a little bit of a fading force.
"I think the fact that we've had a successful generation has made it harder for the younger guys to break through.
"But it is a long journey, as I've found out. I've been here 20 years and I didn't get to world number one until I was 30, so there's still massive hopes for the guys who are 23, 24, 25."