Laura Massaro suffers World Championship upset by Tesni Evans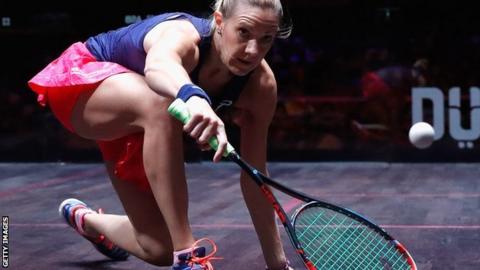 Former world champion Laura Massaro suffered a shock defeat by Wales' 16th seed Tesni Evans in the last 16 of this year's event in Manchester.
Evans, who lost to English world number four Massaro last month at the Hong Kong Open, came through 11-5 11-8 9-11 13-11 in 77 minutes.
She becomes the first Welsh player to make the quarter-finals in 10 years.
Elsewhere, England's Nick Matthew held concentration to advance despite a delay to fix a hole in the court floor.
The world number six saw off Qatar's Abdulla Al Tamimi 11-4 11-8 11-8 and will face Egyptian opposition in the last eight after third seed Mohamed ElShorbagy beat compatriot Ramy Ashour 14-12 11-7 11-4.
"It's obviously tricky resuming a match after a break like that," said Matthew of the hold-up to repair the court surface at 8-6 up in the third.
"You stiffen up and have to start all over again. I've been in that position a few times so maybe my experience helped there."
Evans admitted that she had to battle to hold her nerve as she closed in on victory over Massaro, who lifted the title in 2014.
"I felt good in the first two, but got so tense at the end of the third, she was giving me nothing," Evans said in her post-match interview.
"My heart is beating so fast!"