Tesni Evans beats Joelle King to reach British Squash Open quarter-finals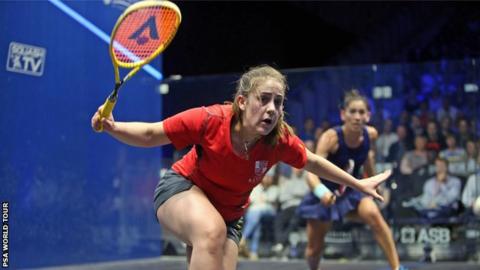 Tesni Evans is through to the quarter-finals of the British Open after beating New Zealand's Joelle King 3-0.
The Welshwoman won 11-9, 11-8, 11-6 in Hull, beating double Commonwealth gold medallist King for the first time on the the PSA World Tour.
Evans is the first Welsh player to reach the quarter-finals of the event since 2002.
Current PSA World Tour chief executive Alex Gough was the last Welsh player to achieve the feat.
Evans, who won bronze at the 2018 Games on the Gold Coast, will now face 2015 British Open champion Camille Serme in Friday's quarters.
"You come onto court and you make a game plan of how you are going to play someone," said Evans.
"We have played so many times in practice, not so much on the PSA World Tour but in practice we have and we both know each other so well, so it was just going to be a case of who did it better today.
"Fortunately, I did that but it was not an easy match at all, she is a very good friend of mine, but someone had to win today.
"I've been able to play well in this tournament. I like playing in the UK anyway and being home and it's good to bring a Welsh person into the quarter-finals again here."
England's Alison Waters, Laura Massaro and Sarah-Jane Perry are also through, with the trio all facing Egyptian opposition in the quarters.
Waters next faces world number one Nour El Sherbini, Massaro plays Nour El Tayeb and Perry is against Raneem El Welily.