British Superbikes: Shane Byrne aims for unprecedented fourth title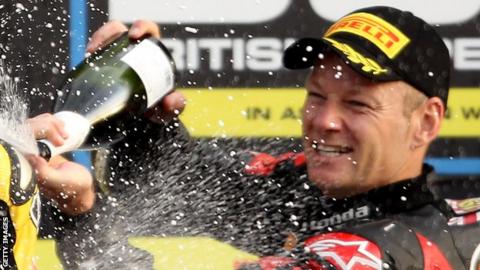 British Superbike champion Shane 'Shakey' Byrne turned down MotoGP to try and become the first man ever to win four BSB titles.
The Kent rider, 36, has previously had full-time stints in both MotoGP (2004-05) and World Superbikes (2009-10).
He told BBC Radio Kent: "I've been to MotoGP and come back and tried World Superbikes. I'm loving being back.
"Why would I leave? All I've done is equal a record with two other riders - I aim to break records not equal them."
The Rapid Solicitors Kawasaki rider also won British Superbikes in 2003 and 2008.
Japanese Ryuichi Kiyonari (2006, 2007, 2010) and Brit Niall Mackenzie (1996, 1997, 1998) are the two others to have bagged a hat-trick of titles.
2013 will be the first opportunity Byrne has had to defend his crown having left the circuit to test himself internationally after his previous triumphs.
In his sole MotoGP season he struggled to make any real impact, failing to secure a podium position in 20 starts.
"What do I need to prove at that level? It really, really annoys me when people question why I've stayed and say I'm not getting any younger," he continued.
"I'm two race wins from being the most successful ever race winner in BSB, I'm fighting for an unprecedented fourth title and I'm hungrier than ever.
"So to be questioned like that really makes me angry but all it does is fire me up more."
Byrne's current principal is Paul Bird, who also manages a self-titled MotoGP team.
The Sittingbourne rider rejected his offer of a move that would have meant racing the likes of legendary seven-time champion Valentino Rossi.
"As a young rider I always said winning 10 BSB titles would never make you a world champion," Byrne added.
"But I soon realised the guys you're riding against in MotoGP are just as talented, but the machinery differences mean if you're not on the right bike you get nowhere and, to be honest, that was a real bitter pill to swallow.
"We've seen what can happen with Rossi struggling these last two years [he finished sixth and seventh before recently leaving Ducati to return to Yamaha].
"I don't want to leave BSB to wobble around in 10th or 15th. I'm a winner."