Leon Haslam signs new deal for 2017 British Superbike Championship season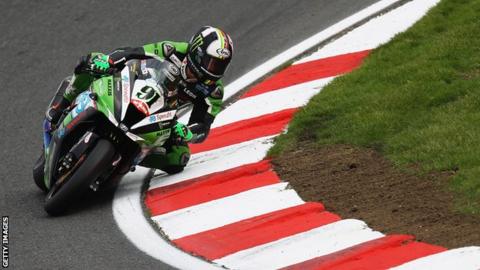 Derbyshire's Leon Haslam has signed a new deal for 2017 with Kawasaki Motors UK and the Bournemouth Kawasaki team.
The 33-year-old returns for another year in the British Superbike Championship after last season's second-placed finish to Shane Byrne.
Haslam said: "I had some interesting options but I know we are going to be battling for wins and a title.
"I believe in Kawasaki and this second year will put us in a stronger position than when we started out last season."
Haslam had nine race wins and a further six podium finishes last season, as the fight for the title went down to the final round.
Pete Extance, Bournemouth Kawasaki team owner, said: "We have had an amazing time in the BSB [British Superbike] paddock so far, but it's now reached a pinnacle point in my team's BSB journey.
"Now it has got very serious with the introduction of Leon and retaining Luke [Mossey] in the official Kawasaki UK team, and realising we have a real chance of challenging for the title along with race wins and podiums every weekend."