Keri-Anne Payne and Thomas Lurz win Great Salford Swim
By Jessica Creighton
BBC Olympic sports reporter at Salford Quays
Last updated on .From the section Swimming
Britain's Keri-Anne Payne and Germany's Thomas Lurz won the elite open water race at the Great Salford Swim.
Nine-times world champion Lurz led the race from start to finish ahead of Greece's Spyridon Gianniotis, while Bulgarian Petar Stoychev was third.
Cassie Patten secured Britain's second medal in the women's race, coming third behind Switzerland's Swann Oberson.
"It was a good swim, a good performance and a good day for British swimming," said Payne.
"I needed to just go out for it and it went quite well. I felt them [other competitors] attacking my feet but I said 'keep your head down and go'."
Lurz, 31, who won the men's event in a time of 16 minutes and seven seconds, added: "I had a really good start. I wanted to keep the lead until the finish and it worked out well for me.
"It is a tough course because of lots of turns so I wanted to lead from the front."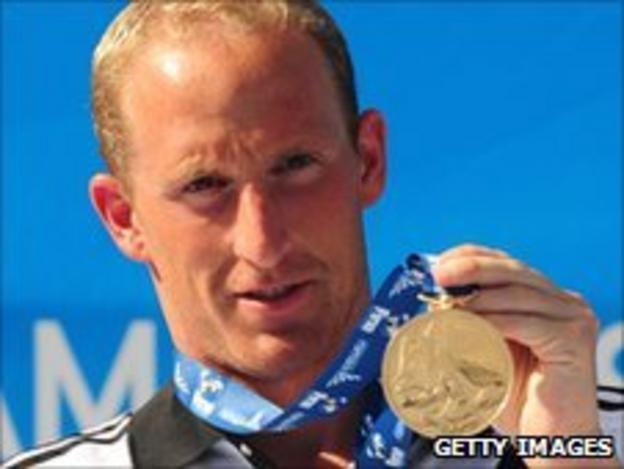 Lurz, who won the same event last year, beat his 2010 time by 30 seconds.
Five-time Olympic gold medallist, Ian Thorpe, commentating for BBC Sport, said: "Lurz's experience was important and he knew how to deliver victory. He smashed his time from last year."
Britain's David Davies and Tom Allen finished fourth and fifth respectively in the men's race.
Allen, bronze medallist at the UK's 1500m championships, fought back midway through the course to narrow the gap on Lurz, even losing his cap in the process, but Lurz did not falter, keeping up the fast pace until the finish.
British Olympic gold medallist and BBC Sport commentator Adrian Moorhouse said: "Keri-Anne is in great form, she won a big open water race in Israel last week and again today.
"I think she needs a bit more work to get into the main world competition because it's quite tight.
"Tom Allen was looking good for a lot of the race but then tailed off towards the end.
"The men's quality of field was far better than the women's because they were pretty much up against the finalists from the [2008] Olympics.
"So to get in the top five bodes quite well, they can see how much work they have to do now."
Reflecting on Payne's manner of victory, Thorpe added: "She has beautiful, long strokes which shows the efficiency she has when she swims. She's looking good for 2012."
Fellow BBC Sport commentator Andy Jameson, another former Great Britain swimmer, said: "It was good to see Cassie Patten, who was second until 50 metres to go but just got overtaken by the wonderfully named Swann Oberson.
"From the men's race, Lurz , he was stunning. And really hard to keep up with.
"Lurz normally stays in the pack in fourth or fifth and stays there. Because he's got such a good sprint he can take off and disappear.
"But because this course has lots of turns in it he decided he wanted to get out front and really go for it."
Blue Peter presenter Andy Akinwolere, who trained to overcome his fear of water, completed the course earlier in the day.
He said: "It was massive for me because I was genuinely petrified of deep water.
"I did it in 40 minutes was expecting to do it in an hour, so I shaved 15 minutes off it which is fantastic. What the mind believes, the body achieves."
The Great Salford Swim is a one-mile open water course through Salford Quays, the new home of BBC Sport, combining elite athletes and amateur swimmers.
The event was part of Manchester's Great Day of Sport which also includes the Great Manchester Run and Great Manchester City Games.
Recently launched, the Big Splash was also showcased at the event - a joint initiative between BBC Sport and British Swimming to increase the UK's participation in swimming in the run-up to the 2012 Olympics.