David Davies pulls out of World Championships
Last updated on .From the section Swimming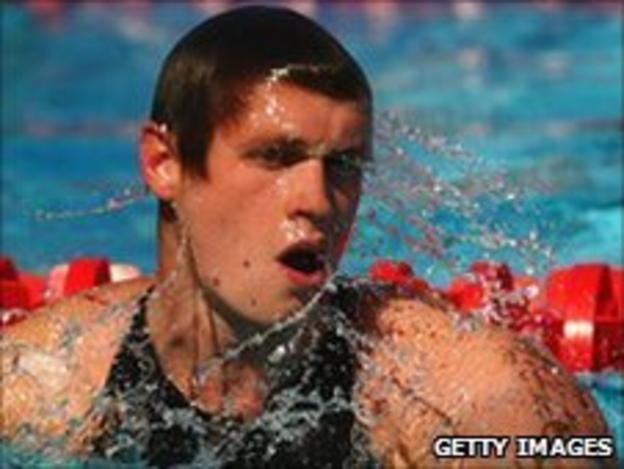 Welsh swimmer David Davies has pulled out of July's World Championships in Shanghai because of form and fitness issues.
Davies, 26, qualified for the 1500m freestyle at the British Championships in Manchester last March.
"I've decided... that for me to have my best year in Olympic year [2012] I need to take a break," said Davies.
"I need to recover from... a difficult period and the World Championships are going to be bypassed."
Davies has been advised to take an enforced six week break to help him recover from fatigue and in order to be ready for the London Olympics.
"It has been a frustrating period but I believe it is the best thing to do in the long term," he said.
"To miss the Worlds and to have a break to fully recover will hopefully sort the problem for me.
"A home Games has always been a motivation for me and it has been a rollercoaster ride to get towards it, but I want the break now so I can let my body recover and hopefully get it right for next year, when it really counts," Davies added.
Winning in Manchester was a welcome victory for the south Wales swimmer, whose recent form has been inconsistent.
But his victory in the pool - in a time of 15:06.44 that was "nowhere near my best time", as Davies admitted after the race - was followed by a disappointing performance in May at the European Open Water Swimming Championships in Israel.
Davies took open water silver at the 2008 Olympics but finished 26th in the 60-man field at Eilat.
The two fastest British swimmers from the European Championships in Eilat qualified for the World Championships in what has become Davies' preferred event.
That saw Davies' fellow Welshman Tom Allen finish in 10th as the fastest Brit, with Commonwealth bronze medallist Dan Fogg in 18th place to also secure a place in Shanghai.
If they finish in the top 10 at the World Championships the swimmers will also qualify for the 2012 London Games.
Davies could also have booked an Olympic spot in the 1500m back in the pool, the event in which he won 1,500m bronze on his Olympic debut in 2004, but that is now no longer a possibility after his withdrawal.
In July Davies returned to Dave Haller, the coach at Cardiff who guided him from childhood until his switch to Kevin Renshaw at Loughborough in 2007.
British Swimming head coach Dennis Pursley said: "We discussed it with David and given his condition it looks as though his performances in Shanghai weren't going to be competitive.
"David needs a break of six weeks so it was decided that that break would happen now, rather than go to Shanghai and not being as competitive as he could be and then take six weeks out of the water - which would impact on the start of his 2012 preparations.
"We felt it was in his best interests and for preparation for London to bypass the World Championships. His single focus is on getting ready for the Olympics."
Davies will still play an active role within swimming and will travel to Serbia with the athletes travelling to the European Junior Championships, where he will take on a mentor role to pass on his knowledge and experience to the team.
"I am really excited to be passing on my knowledge and experience to the junior athletes," Davies said.
"I want to give back to the sport and I think that I can act in a mentor role to help them settle into international competitions.
"Even though I am having a break, it isn't a break from the sport. I still want to be involved and this competition is the right way to go about it."