David Davies considered quitting swimming
Last updated on .From the section Swimming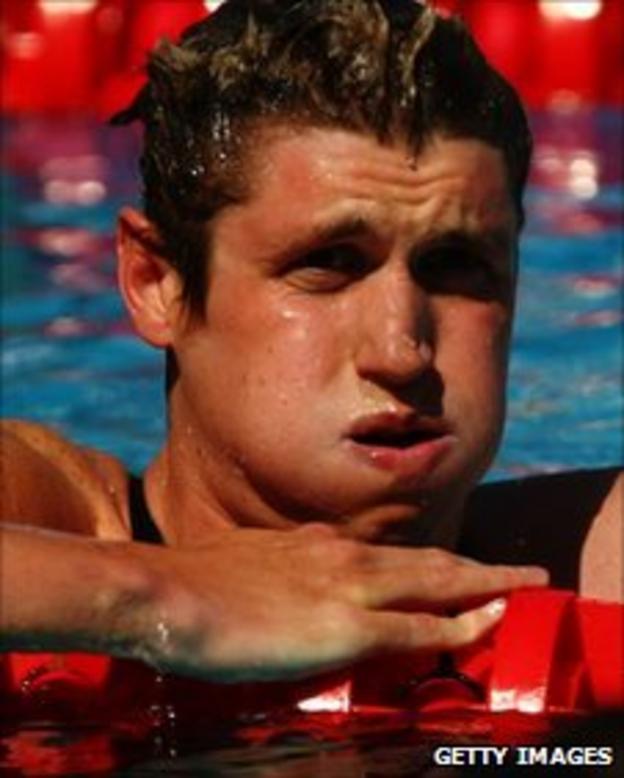 David Davies considered quitting swimming because of the fatigue problems that forced him to withdraw from the World Championships in July.
And Davies says his hopes of competing at the 2012 Olympics are uncertain.
"I was thinking enough's enough," admitted the Welshman. "I was on the verge of giving in."
The 2008 Olympic open water silver medalist failed to qualify for the 10k marathon after a disappointing performance at the European Open Water Swimming Championships in Israel in May.
Tom Allen and Dan Fogg were the two top Britons that qualified for Shanghai - and if they finish in the top 10 both will qualify for the London Olympics.
Davies, dreaming of his third medal in a third Olympics, has little immediate control over his open water participation next year - although he could still qualify in the pool.
Blood tests have indicated no problems and the lethargy Davies is experiencing has been put down to exhaustion and fatigue.
"I have a week of feeling good and three weeks of feeling terrible," the Commonwealth 1,500m gold medalist said.
"It gets more intense and longer to get out of. It's just a terrible feeling.
"Imagine you go to work and you feel rubbish all the time, you get frustrated with it, it's just not right.
"I would just keep going on and hopefully it would sort itself out but I made the decision to cut my losses and take a break and hopefully get over it properly and then have enough time to get back to my best for next year.
"Since that race [in May] I've been terrible, really bad. I've not had one good day at the office.
"I've been tired, achy, lethargic, not swimming well in training.
"Getting frustrated and stressed from it, a bit of burnout."
Davies, who announced his international arrival with bronze at the 2004 Olympics, had considered giving up the sport aged just 26 due to his continued tiredness problems.
"But the doctor said it was fixable," said Davies. "But you need to be sensible."
And Davies is determined to qualify for his home Olympics.
"I thought if I watched it on the telly next year I'd hate it," he added.
"It's not to say I'm necessarily going to be there but I have to try to be there."