Scots swimmers face tough final two days in Sheffield
Last updated on .From the section Swimming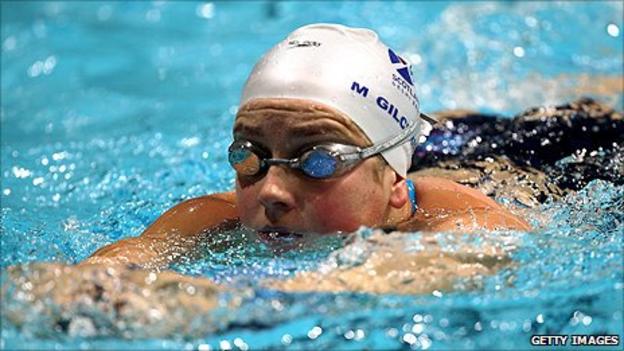 A clutch of Scottish swimmers are through to Thursday's finals at the ASA National Championships in Sheffield.
Hannah Miley is up against Olympic gold medallist Rebecca Adlington and Commonwealth Games team-mate Megan Gilchrist in the 800m freestyle.
Jamie Ross, Jamie Graham and Andrew Rodgie go in the 50m breast stroke and Richard Schafers in the 50m freestyle.
Kathryn Johnstone races in the 100m breast stroke and Lewis Smith and Ross Muir enter the 400m individual medley.
Miley has already qualified in the 200m and 400m IM in July's World Championships in Shanghai and also hopes to be part of the 4x200m freestyle relay.
Thursday's finalists will have to go some to match the achievements of their compatriots in Sheffield on Wednesday.
Robbie Renwick, David Carry and Jak Scott made it a Scots treble in the final of the 200m freestyle, with Commonwealth champion Robbie Renwick, David Carry and Jak Scott all on the podium.
That trio won a silver in the 4x200m relay at the Commonwealth Games in Delhi last year, and with his bronze medal-winning performance in Sheffield Scott hopes that it might secure a place in the 4x200m relay team at the World Championships.
The only sore point for Carry, a 400m bronze medallist in Delhi, was that his silver medal at the National Championships was not enough to secure a place in the 200m freestyle event in Shanghai next month - Ross Davenport had already claimed the last remaining berth ahead of the Sheffield event.
Also on Wednesday, Caitlin McClatchey also secured a bronze in the 100m freestyle and Miley won a bronze in the 200m breast stroke. Fellow Scots Kerry Buchan and Corrie Scott made the final of that race but did not win a medal.
On Friday, the final day of the National Championships, Jak Scott and Renwick hope to reach the final of the men's 100m freestyle, while Miley, Gilchrist and McClatchey race in the women's 400m freestyle.
And Kris Gilchrist hopes to double up on his 100m win on Tuesday in the 200m breast stroke. If he can achieve that he will team up in Shanghai with Glasgow training partner Michael Jamieson, who has already qualified in the 100m and 200m breast stroke.