Britain name World Championships squad
Last updated on .From the section Swimming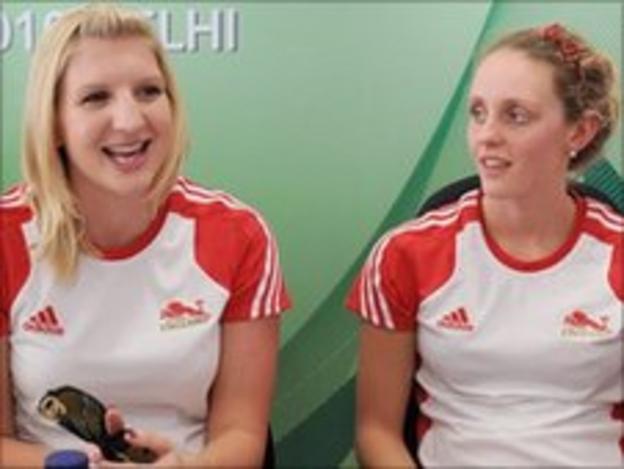 Britain have named their 40-strong squad for next month's Fina World Swimming Championships in Shanghai.
Double-Olympic champion Rebecca Adlington and Commonwealth champion Fran Halsall will lead the women.
Double-Commonwealth gold medallist James Goddard and world champion Liam Tancock head the men's contingent.
British Swimming national performance director Michael Scott described the team as "one of the most competitive British teams ever assembled".
Scott added: "There will be some big challenges ahead this summer - but the squad has real talent and strength and is best placed to overcome these."
"It's a healthy mix of experienced performers on the world stage as well as a group of exciting youngsters who will be looking to establish themselves on the team."
The team also features a group of athletes who have qualified for their first senior national team. The likes of Siobhan-Marie O'Connor, Molly Renshaw, Joshua Walsh and Jak Scott put themselves onto the team with impressive performances at last week's ASA Championships in Sheffield.
"Any World Championships is an important event and marker but the one prior to an Olympic year is a key measure that gives us a strong indication of where we are in our journey to the London 2012 Olympics," stated Scott.
The squad are set to finalise their preparations at a holding camp in Osaka, Japan before arriving in Shanghai.
Full GB Squad:
Men: Adam Brown (Hatfield/Auburn), Simon Burnett (Windsor), David Carry (ITC Stockport), Ross Davenport (ITC Loughborough), James Disney-May (Millfield), Daniel Fogg (ITC Loughborough), Kristopher Gilchrist (ITC Bath), James Goddard (ITC Stockport), Antony James (Plymouth Leander), Michael Jamieson (ITC Bath), Roberto Pavoni (ITC Loughborough), Robbie Renwick (City of Glasgow), Michael Rock (ITC Stockport), Joseph Roebuck (Loughborough University), Jak Scott (ITC Stirling), Liam Tancock ITC Loughborough), Grant Turner (ITC Loughborough), Chris Walker-Hebborn (ITC Bath), Joshua Walsh (ITC Stirling), Andrew Willis (ITC Bath).
Women: Rebecca Adlington (Nova Centurion), Jazmin Carlin (ITC Swansea), Georgia Davies (ITC Swansea), Ellen Gandy (Beckenham), Francesca Halsall (ITC Loughborough), Kate Haywood (Loughborough University), Joanne Jackson (ITC Loughborough), Jemma Lowe (ITC Swansea), Siobhan-Marie O'Connor (ITC Bath), Caitlin McClatchey (Loughborough University), Hannah Miley (Garioch), Keri-Anne Payne (ITC Stockport), Stephanie Proud (Chester-Le-Street/University of Florida), Molly Renshaw (Derventio), Elizabeth Simmonds (ITC Loughborough), Amy Smith (Loughborough University), Gemma Spofforth (Portsmouth Northsea/University of Florida), Stacey Tadd (University of Bath), Rebecca Turner (City of Sheffield), Emma Wilkins (Plymouth Leander)