Olympic Games on horizon for Wales' Jazz Carlin
Last updated on .From the section Swimming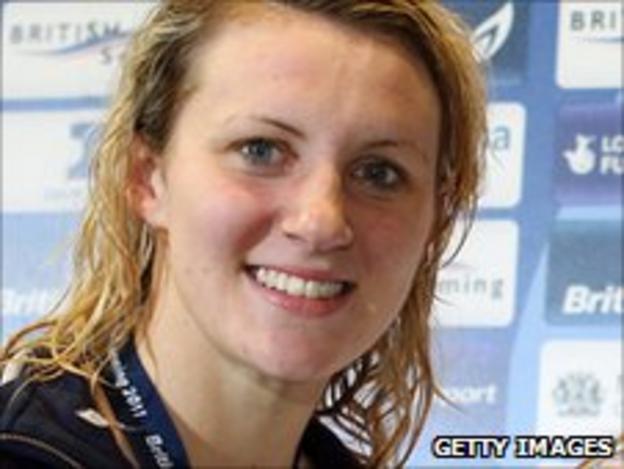 Wales' Jazz Carlin admits she has one eye on the Olympic Games as she prepares for the World Swimming Championships in Shanghai.
Carlin, 20, who won silver and bronze at the Commonwealth Games, will be one of three Welsh swimmers representing Great Britain in China from 16-31 July.
"My first aim is the World Championships," said Carlin.
"But obviously I've got to look forward to next year as well. It's exciting times ahead."
Carlin will be competing in the 400m and 800m freestyle events in China, where she will be up against British team-mate Rebecca Adlington.
Adlington was one of Britain's stars at the 2008 Olympics, securing gold in the 400m and 800m freestyle.
And having watched the Beijing games on television, Carlin says Adlington inspires herself and other members of the British team.
"It definitely drives me on. It also gives me a bit of inspiration that someone from GB and from a local swimming club has got that far and got the Olympic gold medals," said Carlin.
"I remember watching the Beijing Olympics [and] waking up at four o'clock in the morning to watch the swimming," she said.
"It's crazy to think that was three years ago now and obviously the Olympics is getting closer and closer.
"Becky's obviously a great competitor and she's been swimming really well this year.
"It gives us all hope that the British team can do it. I think the British team has come a long way since Beijing.
"I'm obviously ranked fifth and sixth in the world so it's going to be a good race and hopefully I can get into some finals and post some good times.
"I know once I get in the final it's anyone's race. I've just got to go out there and give it the best shot I can.
"There is an expectation but I think I put more on myself than anyone else. I'm going to go out there and do the best I can."
Carlin, who is based at the Welsh National Swimming Pool in Swansea, says she has been pleased with her preparations for August's meet.
She had already qualified for the World Championships following the British Championships in Manchester in March.
Two of Carlin's Swansea team-mates, Georgia Davies and Jemma Lowe, will also be in Shanghai.
"The training's been going really well," said Carlin. "I'm feeling good.
"Qualifying in March allowed me to train all the way through without having any rest and interrupting my training.
"It kind of gave me a boost that I swam well in March and hopefully the training can pay off and we can swim well in Shanghai.
"I've had a good block of training and I think that's been important."